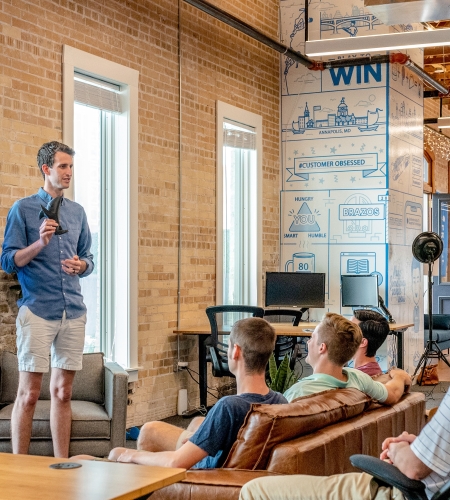 Master of Science in Organizational Leadership (MSOL)
Master of Science in Organizational Leadership (MSOL)
G
The Master of Science in Organizational Leadership (MSOL) is a fully online program designed for the professional who is seeking a graduate business degree who may not have a business background. The program will help you elevate your business leadership skills through critical, strategic and creative thinking. Students will develop skills in change management, negotiation, conflict resolution, planning and decision-making, and more.
What Can I Do with this Degree?
The MSOL degree arms students with an understanding of the purpose of leadership, studying the role of the leader, and cultivating skills associated with effective leadership.
According to the U.S. Bureau of Labor Statistics, the median wages for workers holding a master's degree are 30 percent higher than for those with a bachelor's degree. 
Holy Family University offers graduate degrees designed to take your skills to the next level. And Holy Family University has been ranked #6 by UniversityHQ for Best Master's Degree in Pennsylvania.
Graduates of the MSOL program find opportunities in the following areas:
Human resources manager
Health services manager
Higher education administrator
Management analyst
Management consultant
Manufacturing manager
Marketing director
Organizational development specialist
Project manager
Sales manager
School principal

The MSOL prepares students to apply key leadership and organizational theories as a leader in the global business world. The degree enables students to build critical thinking skills based on business leadership models, and to utilize written and oral management skills for business communication, along with the ability to analyze business and organizational situations using ethical approaches to decision-making.
Program Information
Degree Awarded

Master of Business Administration

Program Location