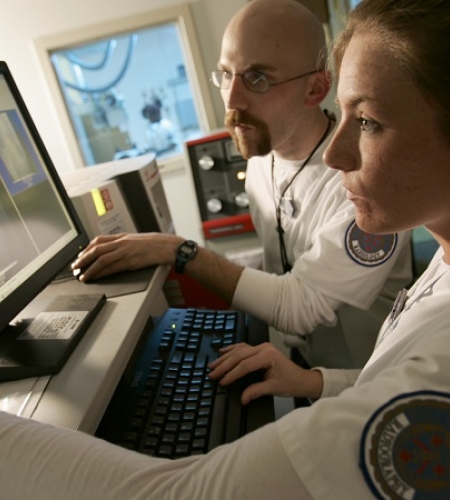 Radiologic Science, A.S.R.S.
Radiologic Science, A.S.R.S.
UG
The Associate of Science in Radiologic Science (ASRS) Degree Program is a 20-month curriculum designed to prepare students for practice in the health specialty of radiography. The degree lays the foundation for future study in the Bachelor of Science in Radiologic Science (BSRS) degree program.
What Can I Do with this Degree?
Holy Family University graduates have high success rates passing the American Registry of Radiologic Technologists (ARRT) Examination in Radiography. With the ASRS degree and certification by the ARRT, graduates can work in a variety of healthcare settings throughout the United States as certified radiographers. Qualified radiographers are needed in hospitals, clinics, physicians' offices, public-health facilities, mobile x-ray companies, and industry.
Students who earn an associate degree in Radiologic Science may explore the following career opportunities:
CT technologist
Limited scope X-ray machine operator
MRI technologist
Nuclear medicine technologist
Radiographer
Radiologic technologist (also known as Rad tech or RT)
Sonographer (also known as Ultrasound technologist or technician)
Program Information
Degree Awarded

Program Type

Program Location

Main Campus - Northeast Philadelphia
Program Overview
Radiographers operate x-ray equipment to create images of tissues, bones, organs, and blood vessels within the human body. The images created by the radiographer are then interpreted and a diagnosis is made by a radiologist, a physician who specializes in interpreting and diagnosing radiographic images.
Clinical courses, begin in the first semester, complement classroom learning, and help students prepare for entry-level practice. Clinical experience includes rotations in community hospitals, medical centers, and healthcare facilities, allowing students to develop clinical skills in a wide variety of healthcare settings that meet the needs of diverse populations.
Spring Open House
Hear from Admissions, Financial Aid, Faculty, and more, and discover all that Holy Family University has to offer.
Register for this Event
Campus Center, 9801 Frankford Avenue, Philadelphia, PA 19114