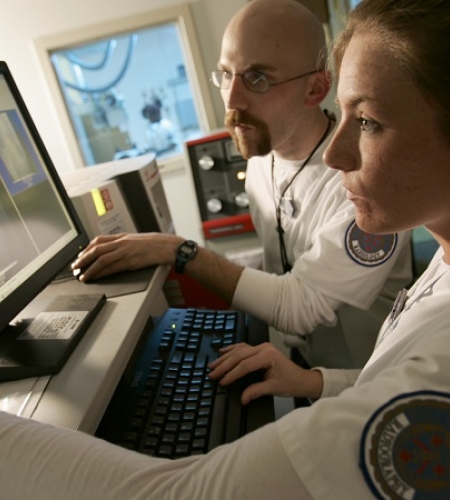 Radiologic Science Post-Primary Certification Tracks
Radiologic Science Post-Primary Certification Tracks
UG
Radiologic Technologists with current certification by the American Registry of Radiologic Technologists (ARRT) are eligible to apply for post-primary certification tracks in the following areas: Magnetic Resonance (MR), Computed Tomography (CT), and Vascular Interventional (VI).
What Can I Do with this Degree?
MRI technologists specialize in magnetic resonance imaging scanners by injecting patients with contrast media, such as a dye so that the images will show up on the scanner.
CT technologists generally work in hospitals or imaging centers and perform scans on all parts of the body for a variety of reasons.
VI technologists use specialized equipment to make images and assist in the performance of procedures on veins and arteries.
Students who earn post-primary certification in Radiologic Science may explore the following career opportunities:
CT technologist
Limited scope X-ray machine operator
MRI technologist
Nuclear medicine technologist
Radiographer
Radiologic technologist (also known as Rad tech or RT)
Sonographer (also known as Ultrasound technologist or Technician)
VI Technologist
Program Information
Degree Awarded

Program Type

Program Location
Program Overview
Magnetic Resonance (MR), Computed Tomography (CT), and Vascular Interventional (VI) tracks are available on a part-time basis and are compliant with all ARRT structured education requirements. Post-primary certificates offer clinical placement and online didactic courses in 8-week sessions which meet the needs of busy working professionals like you. These 15-credit certificates can be completed in as few as 6-10 months.
Spring Open House
Hear from Admissions, Financial Aid, Faculty, and more, and discover all that Holy Family University has to offer.
Register for this Event
Campus Center, 9801 Frankford Avenue, Philadelphia, PA 19114