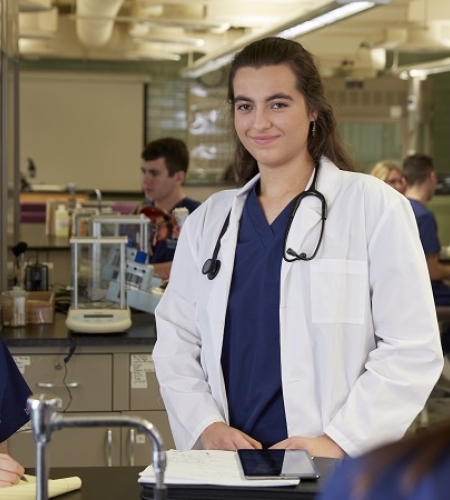 Second Degree Fast-Track BSN Daytime 14-Month
Second Degree Fast-Track BSN Daytime 14-Month
UG
Designed for the college graduate with a baccalaureate degree from an accredited college or university seeking to pursue a career in Nursing, the Bachelor of Science in Nursing degree enables students to become professional registered nurses in just 14 months.
Prospective students who prefer an online format may be interested in our second degree distance hybrid BSN program.
 
What Can I Do with this Degree?
Students who earn a BSN degree may explore the following careers:
Careers for graduates who earn a BSN degree include:
Acute care: hospitals
Adult daycare, assisted living facilities, and retirement homes
Public health  
Home healthcare, hospice, palliative care
Long-term care: skilled facilities
Outpatient facilities
Eligible for Leadership and Management Positions in long-term care, hospitals, and community settings
Specialty Areas: ICU, ER, CCU, NICU, pediatrics, medical-surgical, rehabilitation, occupational health, perioperative practice, OB & women's health, as well as mental health, school nurse, clinical research, health policy, health coach, physicians' offices & clinics, travel nursing, educational units, and staff development
Program Information
Degree Awarded

Program Type

Program Location
Program Overview
The Second Degree Fast-Track BSN Daytime 14-Month program is designed for students who currently have a baccalaureate degree from an accredited college or university and who are seeking to become a professional registered nurse. This program is a full-time day program that will provide students with a BSN degree in as little as 14 months. 
The Second Degree Fast-Track BSN Daytime 14-Month nursing curriculum focuses on the development of critical thinking and clinical judgment, evidence-based practice and research, culturally sensitive health care, and leadership in nursing practice.

Where Students and Alumni Intern and Work
Abington Reproductive Medicine
Abington-Jefferson Hospital
Birches at Newtown
Brightstar Care of North Bucks
Capital Health RN
Cooper University Health
Einstein Medical Center
Genesis Hopkins Center
Horsham Clinic RN
Hospital of University of Pennsylvania
Jefferson Health-RN
Lankenau Medical Center
Magee Rehabilitation
Manor Care Huntington Valley
Nazareth Hospital
Thomas Jefferson University
UPMC Hamot Hospital
UPMC Pinnacle Harrisburg Hospital
Virtua Marlton Hospital-RN
Virtua Our Lady of Lourdes
Virtua Willingboro Hospital
Student Journey
Admission Requirements
Completed Application Form and Application Fee: Application, application fee, and all admission documents must be received by the posted deadline for consideration. We currently admit on a rolling basis.
Personal Statement of Goals: 250-500 words, with your name in the header. Discuss in your Statement of Goals: How do you plan to balance your personal and professional responsibilities while attending a rigorous BSN program?
Letter of Recommendation [1] – from a supervisor or academic.
All Official Transcripts from all colleges/universities previously attended (No High School transcripts required).
Bachelor's degree from an accredited college/university. The program is very competitive. Minimum requirements: CUM GPA of 3.0 of all official transcripts and a minimum CUM GPA of 2.75 in the Math and Science prerequisite courses required.
Prerequisite Courses: Cohorts beginning in the fall and spring require 3 of the 5 prerequisites (listed below) on official transcripts submitted, to apply. If accepted, proof of successful completion of remaining prerequisites are to be submitted on official transcripts and meet admission requirements. All conferred bachelor's degree transcripts are required prior to the start of the cohort. Summer Cohort admissions require all 5 prerequisites to be completed and awarded bachelor's degree submitted with official transcripts to apply.

Anatomy and Physiology I with Lab
Anatomy and Physiology II with Lab
Microbiology with Lab
Nutrition taught by a registered dietitian
Elementary Statistics Interview may be required.
– No more than one original grade of "C" is permitted in the above courses.
– No more than one repeat in any of the above prerequisite courses due to a grade of "C" or less. A syllabus of prerequisite courses may be requested for review. Only credits applicable to the program of study will be considered for transfer. Prerequisites courses over 10 years may be accepted and subject to review. A resume will be required for applicants with prerequisite courses over 10 years.
You are able to view received and pending documents on your application dashboard upon submission.
Admission documents can be sent to gradstudy@holyfamily.edu.
Fall Open House
Hear from Admissions, Financial Aid, Faculty, and more, and discover all that Holy Family University has to offer.
Register for this Event
-
Campus Center, 9801 Frankford Avenue, Philadelphia, PA 19114