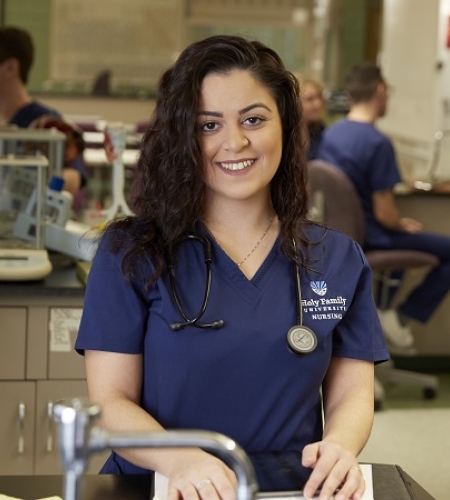 Second Degree Fast-Track BSN Evenings + Weekends 22-Month
Second Degree Fast-Track BSN Evenings + Weekends 22-Month
UG
In Holy Family University's 22-Month Second Degree Fast-Track BSN Evenings + Weekends, a working professional with a baccalaureate degree from an accredited college or university can earn a Bachelor of Science in Nursing degree and become a professional registered nurse.
Prospective students who prefer an online format may be interested in our second degree distance hybrid BSN program.

What Can I Do with this Degree?
This Second Degree Fast-Track BSN degree is offered in the evenings and weekends for the working adult who is looking to become a professional registered nurse. 
Nursing Profile: Christopher Naimo '23
You just never know what life is going to drop in your lap. For Holy Family University second-degree accelerated nursing student Christopher Naimo '23, who will complete his BSN this October, the uncertainties that life has delivered to him have been fiercely challenging, frightfully difficult and immensely fulfilling.
Nursing Profile: Meghann Enright '23
Serve Boldly. As a Peace Corps volunteer who was challenged to embrace this organizational mantra, Meghann Enright '23 got the first taste of how transformational her new life's work could be.
---
Program Information
Degree Awarded

Program Type

Program Location

Main Campus - Northeast Philadelphia

Required Credit Hours

59
Student Journey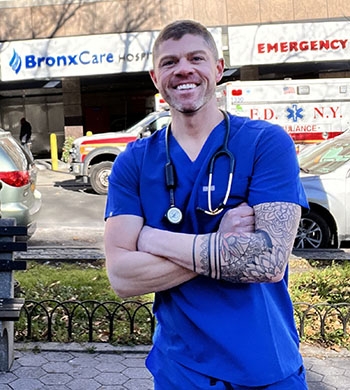 Iain Braddak '22 BSN, MS, RN
I am overwhelmed with gratitude when I think about my time in the accelerated program at Holy Family University. This program provided me with a chance at a new career and a whole new life. One thing that stood out to me was the camaraderie of our cohort. From day one through graduation, we stuck together. I had no idea we would have become so close as a class. Although the curriculum was rigorous, I felt supported by our faculty and clinical staff at every step. Knowing that I have a solid foundation in nursing, I had confidence as I entered the nursing profession equipped with the philosophy and skills I will need to help my clients. After graduating, I was thrilled to pass my NCLEX exam on the first try and then receive multiple job offers the following week. I accepted a position in the Emergency Department at BronxCare (a Stroke and STEMI Level 2 trauma center) and couldn't be happier to join their team. I am proud to represent Holy Family University and wholeheartedly recommend this program.