Tigers that ROAR
Tigers that ROAR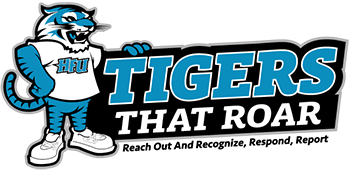 At Holy Family University, our goal is simple – engage our entire campus community in the conversation around sexual violence. We want our students, faculty, and staff to have the knowledge to recognize instances of sexual violence. We want to empower our campus community to respond. We strive to encourage an active bystander approach to make sexual violence each person's responsibility. Through knowledge and education and a call to action, we look to foster a safe and supportive community in any effort or level of reporting on our campus.
Tigers that ROAR: Reach Out
& Recognize, Respond, Report
Tigers that ROAR: Reach Out and Recognize.
Bystanders play a critical role in the prevention of sexual violence. At Holy Family University, we encourage our campus community members to take responsible and comfortable actions to prevent or stop an act of sexual violence. The first step is to recognize the behavior. Preventing sexual harassment is every person's responsibility. An active bystander is someone who lives up to that responsibility by intervening before, during, or after a situation when they see or hear behaviors that threaten, harass, or otherwise encourage sexual violence.
Tigers that ROAR: Reach Out and Respond.
Taking action might look different to each person. Bystanders are encouraged to directly intervene, call Public Safety or law enforcement, or seek advice from a person of authority at the University. Community members who choose to exercise a moral obligation such as this will be supported by the University. It may not be safe or effective to directly confront the harasser in every case, but there are a range of ways bystanders can be involved before, during, or after a situation when they see or hear behaviors that promote sexual violence.
Tigers that ROAR: Reach Out and Report.
Holy Family University is committed to supporting the rights of a person reporting an incident of sexual violence. We encourage your ability to make informed choices and decision by providing you with the resources and information to make such decisions. The Title IX Coordinator can help guide you through your options, resources, rights, and support services.
Bystander Intervention Strategies
Directly approach the situation and attempt to prevent the situation from escalating further.
Disrupt the situation through distraction of the harasser or insert yourself into their interaction to help the targeted person get out of the situation.
Create a distraction and potentially prevent a situation from escalating.
Don't act alone, and call upon others to help to assure your safety.
Step up, set an expectation, and say something when you hear or see something by commenting that a behavior is unacceptable and show others it will not be tolerated.
Use your privilege positions to create change. Your age, race, gender, etc. may make it safer for you to speak up and be vocal about harassment – especially when you are not the target or representative of the target group.
If You Have Experienced Sexual Violence
Remain calm and alert.
Find a safe location as soon as possible. Get to a place that you feel is with persons you trust: your home, a friend's home, a residence all room.
If you have been assaulted or raped, get medical attention as soon as possible. The Philadelphia Sexual Assault Response Center (PSARC) located at 300 E. Hunting Park Avenue in Philadelphia is a free medical resource. Contact PSARC at 215-425-1625.
Preserve physical evidence. Collect tissue and fluid samples on towels, sheets, clothing, etc. Avoid showering or bathing until you have been examined. If you change your clothing, collect relevant evidence in a paper bag.
Contact Public Safety at 267-341-3361 for 24/7 assistance.
Call the local police to report an act of violence or assault.
Contact the Title IX Coordinator at 267-341-3204 to report your incidence of sexual violence. Public Safety can contact the Title IX Coordinator at any time for 24/7 assistance.
If you are seeking a Confidential Resource, visit the University Counseling Center, Health Services, or Campus Ministry for support.
Students are urged to seek free, confidential counseling at the University Counseling Center by calling 267-341-3232 or visiting the Campus Center Room 213.
Helping Someone that has
Experienced Sexual Violence
Listen carefully.
Provide a private and safe space.
Let them know that what they have experienced is not their fault.
Help connect them to campus resources.
Support their choice in regard to their reporting options.
Provide the information for the University Counseling Center.