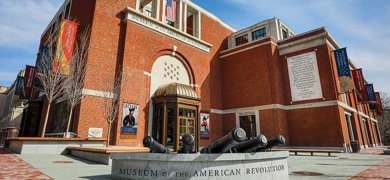 2019 Tigers on the Loose
Nearly 200 alumni and friends gathered at the inaugural Tigers on the Loose. Thank you to the event's sponsors and attendees for their generous support of Holy Family and our students! Stay tuned for an announcement of next year's location.
Event Rewind
The Date: Wednesday, April 10, 2019
The Place: Museum of the American Revolution
Alumni, family and friends joined us at Philadelphia's newest museum for a scholarship celebration to raise critical funds for student financial aid.
Opened in April 2017 and located just steps away from Independence Hall, the Museum of the American Revolution takes visitors on a journey through the incredible, unlikely story of our nation's founding. Through exhibition galleries, theaters and a distinguished collection of original artifacts the complete history of the American Revolution is brought to life.
The evening began with a reception featuring food stations, hors d'oeuvres, and an open bar in the Museum's Liberty Hall and open-air terraces with stunning views of Old City. Following a short program, the reception continued with the Museum's exhibition galleries open to explore.
Our guests enjoyed a special presentations of Washington's War Tent, which served as both his office and his sleeping quarters through much of the war.
To sponsor future events, or for more information, please contact Joshua Liss, Assistant Vice President for Development, at 267-341-3100 or jliss@holyfamily.edu.
Thank You to our Sponsors!
Gold Sponsors
Beneficial Foundation
NorthMarq Advisors
Anthony and Mary Ann Szuszczewicz
TN Ward Company
Silver Sponsors
Barnes & Noble College
James Dever Bennett, Esq. '82 and Kim F. Bennett
Dennis Colgan
IBEW Local 98
Independence Blue Cross
MiniMelts - The Ice Cream Dream
NSM Insurance Brokers
Pepsico
Sisters of the Holy Family of Nazareth
Stradley Ronon
TANTALA ASSOCIATES, LLC
Mary Keirans Vassallo '85
Bronze Sponsor
Susan Adams
Allied Universal Security Services
Fortis Wealth
Holy Family University Alumni Association
Idea Hut, Inc.
Kimmel Bogrette Architecture + Site
Marquette Associates
Matthew McFillin
O'Connell & Company LLC
PECO
Jim and Anne Marie McLaughlin Pettit '69
Pietragallo Gordon Alfano Bosick & Raspanti, LLP
PNC
Sandmeyer Steel Company
Southampton Window Cleaning & Janitorial Service, Inc.
Steamfitters Local Union 420
William Strecker
The Swan Family
Travelers
Westinghouse Lighting
Benefactor
Chadwick Service Company
David Thomas Tours
Kingsbury, Inc.
Thomas T. Loder, Esq.
Chip and Phyllis Marshall
Bruce Miller
Nazareth Academy High School
Parkhurst Dining Services, Inc.
Patrick Ryan and Susan Santalucia
Albert Tegler, Jr.
Mary E. '81 and Robert D. M'15 Wombwell
Patron
Albert Communications
Ardent Credit Union
ASTM International
BrightView Landscapes, LLC
P. Joseph Corless
J. Barry Dickinson
Family & Friends Organization of Holy Family University
Henry Schein Medical
Holman Enterprises
James D. Morrissey, Inc.
Eric Nelson
Today Media
Sponsor a Student
Assessment Technologies Institute
Confidio
Deborah Evans
Ryan Keller '17
John Mullen
Michelle Pickels '01, MBA '11
Kevin Raphael
Mark Rosen
Saint Mary Interparochial School
Marta Sparrow '81
Carol Tinari