Tigers on the Loose | 2019 Student Speaker Remarks
Tigers on the Loose | 2019 Student Speaker Remarks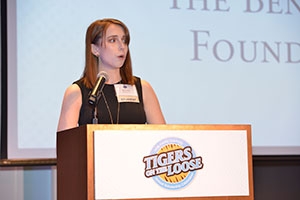 In her remarks at Tigers on the Loose 2019, Meghan Rakus '19, who grew up in Northeast Philadelphia, traced her story, expressing gratitude for the opportunities her Presidential Scholarship offered, and the relationships she forged with faculty, staff, and fellow students. She readily acknowledged the collective contributions these relationships and experiences made to the person she is today — confident and well-prepared to step into her chosen profession.
With her Holy Family education as a catalyst, Meghan, who majored in Early Childhood Education and Special Education, has begun her teaching career as a sixth-grade teacher at St. Mary Interparochial School in Philadelphia. She hopes to begin a Master's program in the near future, with a goal of working in education administration.
Sister Maureen, thank you for your kind words and for the honor of speaking here tonight. I grew up in Northeast Philadelphia attending Presentation B.V.M., then later graduated high school from Saint Basil Academy. Throughout elementary school and high school, I often struggled with academics. I went to tutors, stayed for after school programs, studied every night, and yet I still found the subjects difficult.

When I would come home from school, frustrated and disheartened, often crying over not doing well, my mother would simply ask, "Did you do your best?". And, although I would always say yes, I never knew the answer. How does one know if they did their best?

Then in my senior year at Saint Basil, I attended an interview day for Holy Family University. I was nervous because I dreamed of being a teacher for as long as I could remember, and I knew Holy Family would help me achieve that dream.

That day, I was not only accepted into Holy Family but was also offered the Presidential Scholarship. I was overwhelmed with emotion, so I snuck into the side stairwell in the school and I called my mother to tell her. When I told her, I had never heard her scream so loudly. I could hear her jumping up and down with excitement. In that moment, I decided that at Holy Family I would do my best.

I soon began my journey, meeting amazing professors that saw potential in me that I had not yet seen in myself. I was accepted into the Honors Program. By my sophomore year, I worked with Dr. Kimberly Dasch-Yee to develop the Honors Program Student Council and served as its President.

I have also served as the Vice President of Interdisciplinary Disabilities Education and Acceptance, which strives to make Holy Family a more supporting and accepting environment for students of all abilities. I have also been involved with EdConnections, the student organization for School of Education majors, and Folio, Holy Family's literary and art magazine.

I was grateful for the opportunity to present my research on the importance of mindfulness in classrooms at the Southeastern Pennsylvania Consortium for Higher Education Honor Conference and Holy Family's Honors Program Symposium. I was very proud to be recognized for the strongest research by receiving an Honors Program Scholarship.

I have also made sure to stay in touch with my community off-campus. I volunteered at local elementary schools, Autism Cares, and Philly Open Soccer. I also worked as a library assistant at a branch of the Montgomery County Public Libraries.

I was able to do all of this because of the support of my family and the Holy Family community. I was blessed with educators that pushed me to see the world in a new light and to see the opportunities on and off-campus. These educators helped me learn what it is to do my best. So, if my mom were to ask me this May at the Kimmel Center if I did my best, I will be able to say yes!

So today, I would like to thank all of Holy Family's donors. It was because of your donations that I was inspired to do my best four years ago. It allowed me to make a difference in my community, and achieve things I never imagined. Many students at Holy Family have stories like mine and are as appreciative and grateful for the opportunities granted.

Scholarships can continue to inspire people and afford them life-changing opportunities. I have seen the future first-hand through my student teaching experience in a Philadelphia public school first-grade classroom, and I am here to tell you that the future is bright. It is kind, generous, caring, and they are the people we need to do their best.

I encourage everyone to continue to donate to Holy Family so other students, both current and future, can have the opportunity I had. Thank you again and enjoy the rest of your evening.