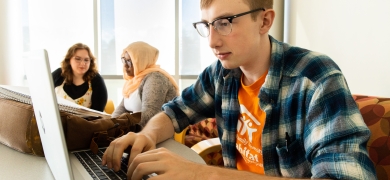 Fast Facts
Holy Family University is a comprehensive private university with campus locations in Philadelphia and Newtown. Holy Family offers undergraduate and graduate degree programs in the liberal arts, the sciences, business, education, and nursing.
The university is known for its uniquely supportive atmosphere and programs that are both professional in nature and highly adapted to the real lives of students. For instance, we offer a number of accelerated degree and part-time programs specifically designed for working adults.
F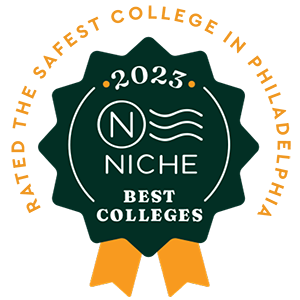 ounded: 1954 by the Congregation of the Sisters of the Holy Family of Nazareth
Status: Private, four-year, comprehensive university granting doctoral, master's, and baccalaureate degrees, an associate's degree in radiologic science, and multiple certifications that include Pennsylvania's approved teacher education program for grades K-12.
Affiliation: Roman Catholic
President: Anne Prisco, Ph.D.—6th President of Holy Family University
Fall 2022 Enrollment: 2,955 total students – 2,182 Undergraduate and 773 Graduate
Fall 2022 Admissions: There were 618 new Undergraduate students, 155 new Graduate students.
Student-Faculty Ratio: 13:1
Average class size: 15 Undergraduate; 5 Graduate
Degree Programs: 65 undergraduate academic program concentration areas in four academic schools: Arts & Sciences, Business & Professional Studies, Education, and Nursing & Health Sciences. 12 master's degree programs and 3 doctoral programs.
Outcomes: Approximately 92% of recent graduates are working or attending graduate school within a year.
Students: 3:1 female-to-male ratio, 39% from underrepresented populations, 40% Catholics, 11% from New Jersey, 52% from the city of Philadelphia, and 73% are from a zip code within a fifty-mile radius from the University.
Financial Aid: 8 out of 10 full-time Undergraduate students receive at least 10% of institutional aid.
Athletics: Seventeen NCAA Division II men's and women's varsity teams.
Campus Life: More than 25 student-run clubs and organizations, 10 honor societies.
Residential: Facilities to accommodate 290 residents.
Costs 2023–2024: Tuition—$32,768. Room $8,138. Board $7,520.
Accreditation:
The Middle States Commission on Higher Education
Business: Accreditation Council for Business Schools and Programs (ACBSP), School of Business Administration Programs
Doctor of Psychology, Counseling Psychology: American Psychological Association
Nursing: Commission on Collegiate Nursing Education*
Radiologic Science: Joint Review Committee on Education in Radiographic Technology
* The baccalaureate, master's, and doctoral degrees in nursing at Holy Family University are accredited by the Commission on Collegiate Nursing Education.