Alumna and Ed.D. student Jayda Pugliese '09 M'14 named Best in Nation
Alumna and Ed.D. student Jayda Pugliese '09 M'14 named Best in Nation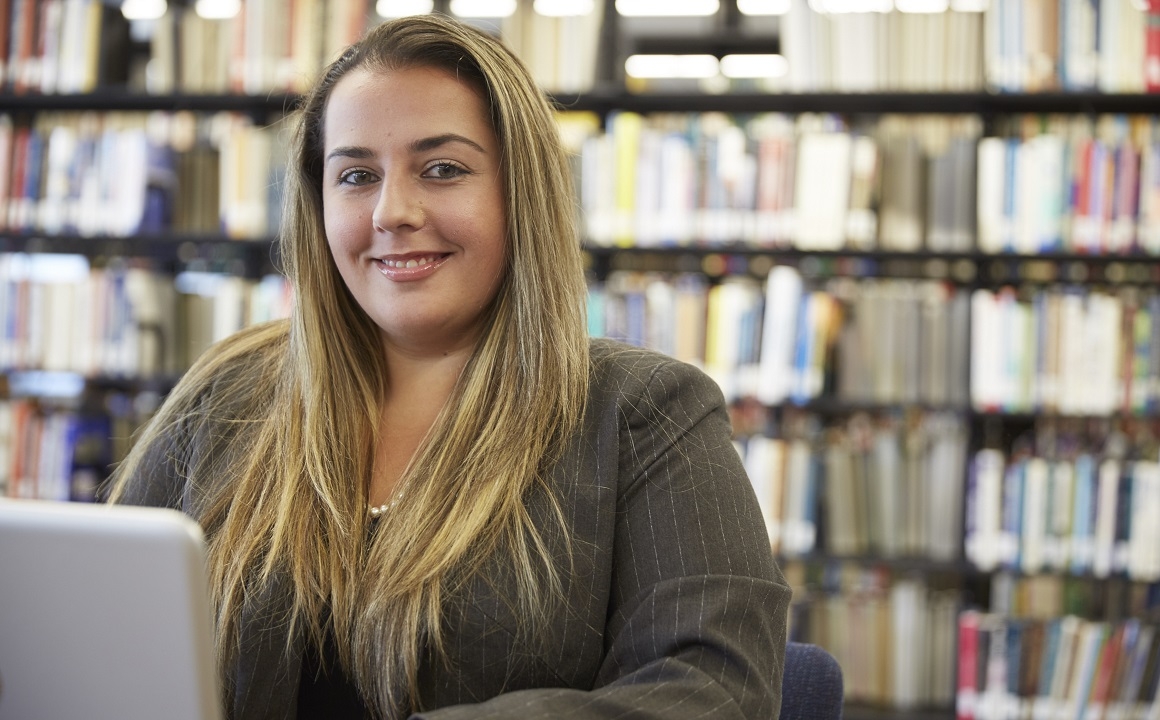 Holy Family University congratulates alumna and current Ed.D. student Jayda Pugliese on winning the Milken Educator Award!
This prestigious award is in its 30th year, and Pugliese is only 1 of 35 educators who will be honored by the Milken Family Foundation this year. The award comes with a $25,000 prize.
"The School of Education is extremely proud of Jayda's achievement," said Dr. Kevin Zook, Dean of the School of Education. "From our interactions with her, we know the energy, passion, and dedication Jayda brings to teaching. Countless students have already benefited from her creative classroom teaching, and she will touch the lives of many, many more in the future."
"The Milken award is only given to a few of the best teachers every year, and to be selected as one of those teachers has been life changing," Pugliese said. "When I was given the award, I was crying because it is the dream of every teacher to be recognized for their hard work. Having a national panel tell me that I am the best of the best is humbling. The fact that I have made myself so distinguishable as an educator validates to me that I am doing something right as an educator; I am changing lives."
Pugliese has also been named a finalist for the 2016 Escalante–Gradillas Prize for Best in Education. The winner will be announced on Oct. 26.
"As a teacher, I believe that it is imperative to cultivate an environment that commands equity, accountability, and excellence in the education of all children," she said. "Every student should have equal opportunities and ample support in becoming successful, well-rounded individuals. I aspire to foster an educational environment in which students are not only academically successful, but are also culturally aware, recognize the importance of global and community stewardship, and are prepared with 21st century learning skills for future endeavors."
---
Philly.com Coverage: http://www.philly.com/philly/education/20161006__25k__national_recognition_for_Philly_teacher.html
Press Release from the Milken Family Foundation.
Full STEAM Ahead: Philadelphia Science and Math Teacher First in Nation to Receive
2016-17 Milken Educator Award, $25,000 Cash Prize
Jayda Pugliese from Andrew Jackson Elementary Is City's First Winner since 2007
SANTA MONICA, CA (Oct. 5, 2016) — What started as a normal school assembly turned into a life-changing event for Jayda Pugliese, a fifth-grade science and math teacher at Philadelphia's Andrew Jackson Elementary School. Pugliese (pronounced "Pug-lee-see") was presented with the prestigious Milken Educator Award, which comes with a $25,000 cash prize. She is the sole recipient in Pennsylvania this year and the first recipient in Philadelphia since 2007.
Milken Family Foundation Chairman and Co-Founder Lowell Milken kicked off the 2016-17 Milken Educator Awards tour with today's ceremony at Andrew Jackson Elementary. He was joined by Pennsylvania Secretary of Education Pedro A. Rivera, Philadelphia Mayor Jim Kenney and School District of Philadelphia Superintendent Dr. William R. Hite, praising Pugliese's work before cheering students, respected colleagues, distinguished officials and the media.
Pugliese is the first among up to only 35 educators who will be presented with the honor during the Milken Family Foundation's (MFF) cross-country tour. This season marks the 30th year of the Awards, hailed by Teacher magazine as the "Oscars of Teaching."
"Jayda Pugliese is a tenacious and innovative leader who gives students tangible opportunities to explore and excel in both the arts and sciences. Her blended learning expertise and skill in cutting-edge technology are exemplary," said Lowell Milken. "We are proud to recognize Jayda with this Award and are confident that she will continue to prepare talented young minds for a globally competitive society."
"The impact that an inspiring, engaging, and motivational educator has cannot be overstated, as it's a positive influence that will benefit students for the rest of their lives," said Rivera. "This year's Milken Award winner not only serves as a role model to students but also to other educators, and the Pennsylvania Department of Education thanks her for her tireless efforts on behalf of Pennsylvania's students. The effects of that work will certainly be far-reaching and enduring."
"I am pleased to be a part of the Milken Educator Awards as we honor Jayda Pugliese for her exemplary dedication to students and teachers alike," said Kenney. "On behalf of our city, I congratulate her and thank her for her fine work."
"The Milken Educator Award represents the gold standard for teacher excellence, and I am proud to have Jayda serving as a model for that excellence right here in our District," said Hite. "The hard work, innovation and dedication she displays in the classroom every day are deserving of this recognition. Andrew Jackson students have such a fantastic teacher in Jayda and her efforts are making such a positive difference in their lives."
Andrew Jackson Elementary is a diverse, high-need K-8 school where 100% of the students are eligible for free and reduce-priced lunch. Pugliese consistently raises the bar for her students and uses technology to keep them fully engaged. More than 80% of Pugliese's students showed at least one year's growth in math skills during the teacher's first year at Andrew Jackson, and many of her students work above grade level.
Pugliese has completed several successful crowdfunding and education grant campaigns that have helped to equip her classroom with state-of-the art science, technology, engineering, art and math (STEAM) learning tools. A fundraising campaign through DonorsChoose.org helped to supply her students with microscopes, a 3D printer to produce new products designed by students, and "snap circuits" to study electricity. She also won a competitive grant for blended learning (a mix of online and face-to-face interaction) and will train and monitor the faculty at Andrew Jackson as the blended learning program is implemented.
In addition to her responsibilities as the go-to expert in blended learning, Pugliese is chair for her grade band and a Professional Learning Community leader. With a background in teaching gymnastics, she founded the HYPE (Healthy Youth Physical Education) after-school program at the school, which was named the best in the city. Students look up to her, colleagues respect her, and parents get involved in her programs.
Outside the school, Pugliese provides professional development districtwide in technology integration and working with diverse student populations. She is a board member of her local TESOL (Teachers of English to Speakers of Other Languages) affiliate, serves on the teacher advisory council for the Philadelphia Zoo and writes about technology for LifeHack.org.
Pugliese has multiple certifications and has taught both regular and special education classes in Philadelphia. Before coming to Andrew Jackson, she served as a classroom teacher, technology director, and coordinator of the K-12 ESL and special education programs at ASPIRA Bilingual Charter School. She spent three years teaching seventh- and eighth-grade math and special education at Community Academy of Philadelphia Charter School. In high school, Pugliese, who is hearing-impaired, organized a sign language club to tutor students at a local school for the deaf; as a teacher, she relates well to students with disabilities and teaches compassion and understanding to all her students.
Pugliese earned a Bachelor of Arts in special education and elementary education and a master's in ESOL (English for Speakers of Other Languages) and literacy from Holy Family University; she expects to earn an Ed.D. in educational leadership and administration there in 2018. Pugliese began teaching at Holy Family in 2016 as an adjunct instructor.
More information about Pugliese, plus photos and a video from today's assembly, can be found on the Milken Educator Awards website at http://www.milkeneducatorawards.org/educators/view/jayda-pugliese.
Milken Educators are selected in early to mid-career for what they have achieved and for the promise of what they will accomplish. In addition to the $25,000 prize and public recognition, Pugliese's honor includes membership in the National Milken Educator Network, a group of more than 2,700 top principals, teachers and specialists dedicated to strengthening education.
More than $138 million in funding, including $68 million in individual $25,000 awards, has been devoted to the overall Awards program, which includes powerful professional development opportunities throughout recipients' careers. Many have gone on to earn advanced degrees and be placed in prominent posts and on state and national education committees.
The Awards alternate yearly between elementary and secondary educators. Unlike most teacher recognition programs, the Milken Educator Awards has no formal nomination or application process. Candidates are sourced through a confidential selection process and then reviewed by blue ribbon panels appointed by state departments of education. Those most exceptional are recommended for the Award, with final approval by the Milken Family Foundation.
Past recipients have used their Awards to fund their children's education or their own continuing education. Others have financed dream field trips, established scholarships and even funded the adoption of children.
To get regular updates on the surprise Milken Educator Award events, follow and use the #MilkenAward hashtag on Facebook, Twitter and Instagram. The Milken Educator Awards tour is on social media at www.facebook.com/milkeneducatorawards, www.twitter.com/milken, www.youtube.com/milkenaward, and http://instagram.com/milkenfamilyfdn.
For more information about the Milken Educator Awards, visit www.MilkenEducatorAwards.org or call MFF at (310) 570-4772.
About the Milken Educator Awards
The Milken Educator Awards, created by the Milken Family Foundation, is in its 30th year. The Awards provide public recognition and individual financial rewards of $25,000 to elementary and secondary school teachers, principals and specialists from around the country who are furthering excellence in education. Recipients are heralded in early to mid-career for what they have achieved and for the promise of what they will accomplish