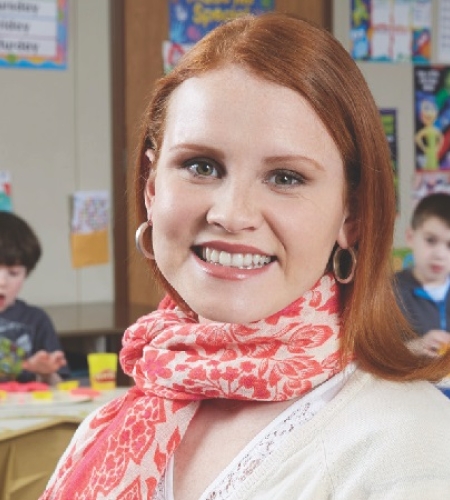 Initial Teacher Certification, Pre K-4, M.Ed.
Initial Teacher Certification, Pre K-4, M.Ed.
G
Specifically designed as a practitioner's degree, for students who wish to acquire the knowledge, skills and experience necessary to work in a professional field.
What Can I Do with this Degree?
As a professional degree, the M.Ed. is intended for students who wish, upon graduation, to assume positions of leadership in a practical setting or positions requiring more advanced study than that available at the bachelor's level (e.g., as an instructional technologist or as a district resource teacher). 
Upon completion of the program, you will be able to:
Demonstrate an in-depth understanding of the cognitive, emotional, physical and social development of infants, toddlers, preschoolers, kindergartners, and children in the primary grades
Design and implement a developmentally appropriate curriculum for all children
Analyze the classroom environment to determine how it can be adapted to meet diverse needs of children
Develop and implement appropriate formative and summative assessment strategies
Program Information
Degree Awarded

Program Type

Program Location
Program Overview
This Accelerated Degree Program is designed to provide individuals, who have undergraduate degrees in fields other than education, the opportunity to pursue a career in teaching grades Pre K – 4. While earning your M.Ed. degree, you will also meet Pennsylvania state teacher certification requirements for Pre K – 4. Classes are offered in both a blended and online format as 8-week courses. Once completed you may choose to add on Grade 5 and Grade 6 certification through further testing.
Where Students and Alumni Intern and Work

School districts working with our students and employing our graduates include:
Archdiocese of Philadelphia
Bensalem
Bristol Borough
Bristol Township
Centennial
Central Bucks
Cinnaminson
Council Rock
Mount Laurel
Neshaminy
New Hope-Solebury
Pennsauken
Pennsbury
Philadelphia