Dr. Sagedy Presents Research on Improving Nursing Students' Attitudes Toward End-of-Life Care at AACN Transform 2021 Conference
Dr. Sagedy Presents Research on Improving Nursing Students' Attitudes Toward End-of-Life Care at AACN Transform 2021 Conference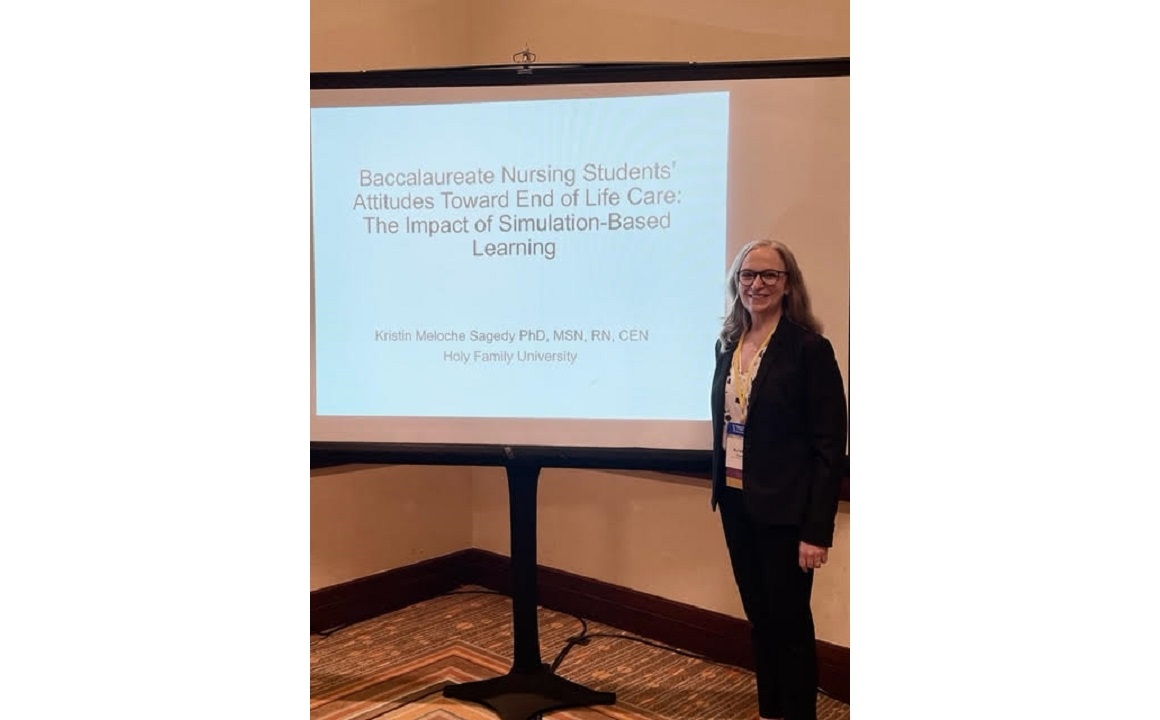 On December 3, Kristin Sagedy Ph.D., MSN, RN, CEN, assistant dean and assistant professor at the School of Nursing & Health Sciences at Holy Family University, presented her research at the American Association of Colleges of Nursing (AACN) Transform 2021 Conference in Dallas, Texas during the podium abstracts session.
Dr. Sagedy's presentation, "Baccalaureate Nursing Students' Attitudes Toward End of Life Care: The Impact of Simulation-Based Learning" was presented as part of the Leading & Advancing Improvements in Health, Health Care, and Higher Education themed category at the conference.
The podium abstract presentations provided a forum for attendees to share their research and to generate discussion about critical topics in nursing. Dr. Sagedy's presentation focused on how all nurses, regardless of their specialties, will care for patients at the end of life and her studies of the effectiveness of low-fidelity simulation-based learning activities in improving nursing students' attitudes toward end-of-life care. In her presentation, Dr. Sagedy noted that more effective training methods should be sought to help prepare nurses for this crucial role in nursing.
"It is a moral imperative that nursing students be prepared to care for dying patients and grieving families," said Dr. Sagedy. "Best practice in end-of-life nursing education has not been established. I'm pleased that my research contributes to the body of evidence supporting simulation-based learning in end-of-life care. Disseminating the research to a national audience was a distinct privilege."
For more information on Holy Family University's nursing programs, please visit the School of Nursing & Health Sciences website.