Holy Family University's Social and Behavioral Sciences Association Hosts Successful Out of the Darkness Campus Walk
Holy Family University's Social and Behavioral Sciences Association Hosts Successful Out of the Darkness Campus Walk
On April 17, Holy Family University's Social and Behavioral Sciences Association (SBSA) hosted the Out of the Darkness Campus Walk, sponsored by the American Foundation for Suicide Prevention (AFSP), to raise awareness of suicide and mental health issues.
The walk started at Holy Family University's Campus Center and progressed to Fleuhr Park, located across the street from the University.
"I was a bit concerned that we would not get much of a turn out this year because of the COVID-19 pandemic," said Shannon McCombs, Co-president of SBSA. "I was fairly sure we would not fundraise as much as we did because I know this pandemic has hurt people financially. However, I am glad that everyone joined together to support the cause of suicide prevention. It was a beautiful day and hopefully we are one step closer to seeing a world without suicide." 
"Despite the current circumstances that are occurring in this world we have managed to come together in unity to give each other support and show that we care by raising awareness for suicide prevention," said Nina Danko, Co-president of SBSA. "I am proud of the members and surrounding community for raising money, getting donations, and coming together as one as we lift each other up and shine some light on this serious matter that needs to be looked upon more. We can start by making a difference here at our Out of the Darkness Campus Walk at Holy Family University."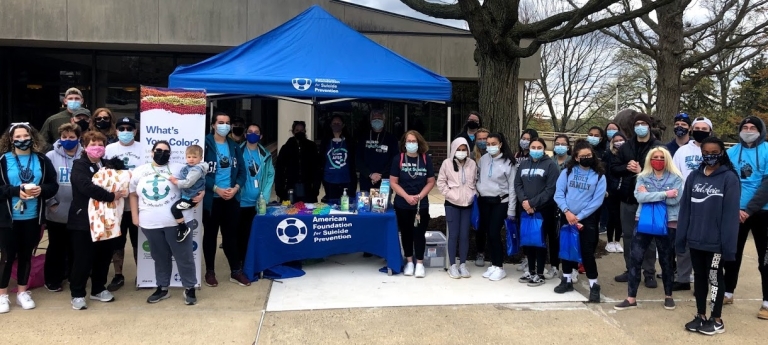 According to the CDC, suicide is the second leading cause of death among young people ages 10-21. The AFSP funds research, spreads education, provides support to those affected by suicide, and advocates for smart public policy.
Donations for the Out of the Darkness Campus Walk are still being accepted online now through June 30. For more information, visit http://www.afsp.org/holyfamily