Jordan Joins Marketing and Promotions Team at Citizens Bank Park
Jordan Joins Marketing and Promotions Team at Citizens Bank Park
Juwan Jordan claims to not be the Phillie Phanatic, but as a member of the Marketing and Promotions team for Citizens Bank Park, he is in charge of escorting the Phanatic to his various locations throughout the game.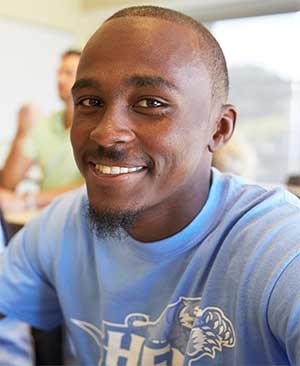 Even if he was the Phanatic—could you blame him for not telling?
A junior Sport Marketing major with a full course load, practice for the men's track and field team, and weekend meets, Jordan was already used to early mornings and late nights. Jordan's nights are even busier now, as he spends his time at the ballpark working for the Phillies 2016 season.
"After I check in, I have to get the script for the entire stadium and take it out to the people who do the interviews and the scoreboard," Jordan said. "Whenever the Phanatic has activities, we have to organize them and make sure he is where he needs to be. When someone does the national anthem, we have to get the person down to the field and make sure they're prepared. Everything I do is very time sensitive."
Jordan first learned about the opportunity to work part time for Citizens Bank Park through an email from the Athletics Department. After applying and securing an interview, he was offered the job. Though he originally began working in the Hall of Fame Club and Suites, Jordan has since transferred to the Marketing and Promotions team, where he hopes to make a career out of the opportunity.
"It's been very beneficial to my life," he said. "I've been able to talk to various people in the sports field. I've met the owner and manager of the Phillies. Just being able to be around such important people of a great organization impacts me and motivates me to continue to do positive things within my major."
Being able to watch every Phillies home game, concerts at venue, and other activities hosted by Citizens Bank Park has taught Jordan a lot about the business he hopes to soon be in. As an athlete, Jordan has always had a vested interest in what was happening on the field. With his major, he is looking to find out how the upper management of these professional franchisees works.
What's his dream job, you ask?
"Although I travel every summer to different states throughout the country, becoming a member of a Major League Baseball Front Office would be a dream come true. What other place would I enjoy this more than Philadelphia, where I could always see my friends and family, while enjoying my dream job?"