Mental Health Impacts of COVID Reveal the Need for More Psychologists
Mental Health Impacts of COVID Reveal the Need for More Psychologists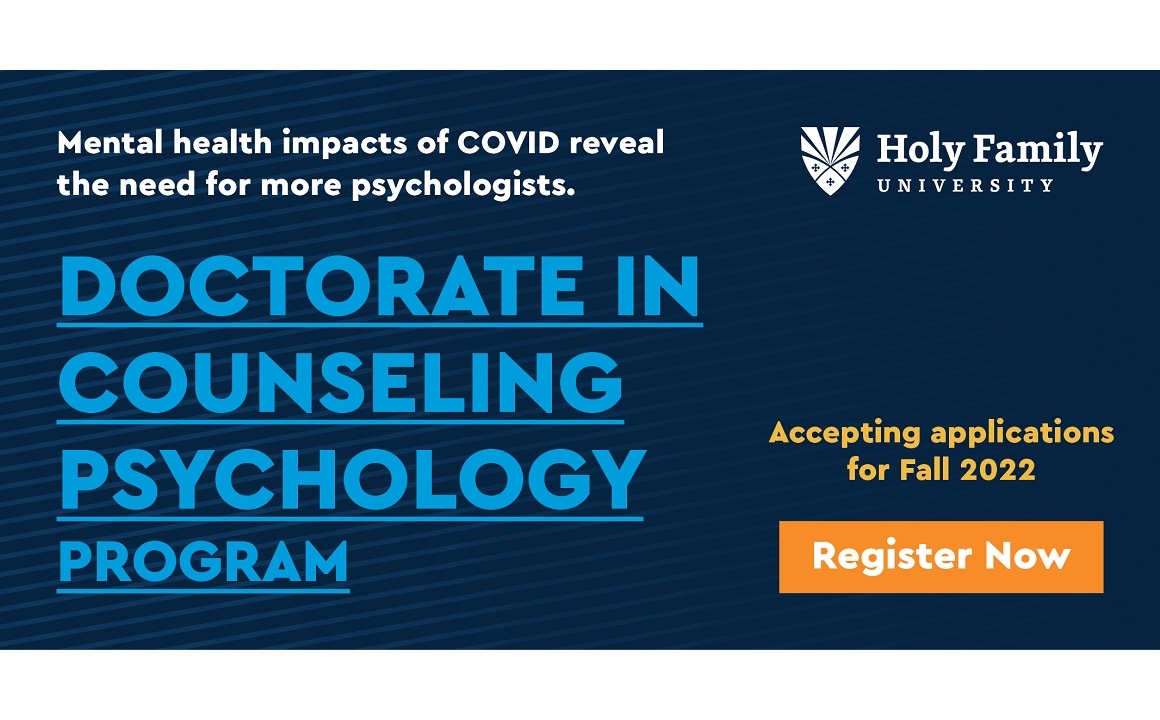 Want to help those struggling with mental health issues heightened by the pandemic?
If you currently have a Master's degree in a mental health discipline and are seeking to become a licensed counseling psychologist, Holy Family University has a Doctorate in Counseling Psychology program that will help you advance your career. 
Our program is committed to a practitioner-scholar training model that is grounded in evidence-based and practice-informed methodology, utilizing interventions that reflect the foundational values of the discipline of counseling psychology. Consistent with the American Psychological Association's Standards of Accreditation for Health Services Psychology (HSP) and the guidelines for the professional psychology training developed by the National Council for the Schools and Programs in Psychology (NCSPP), the clinical training provided by our program will prepare you to treat the increasing mental health concerns of our world.
"As a graduate of our Doctorate in Counseling Psychology program, you will build upon your education and clinical experience to contribute to the future development of the field.  Completing a degree at this time will allow you to be on the cutting edge of evidence-based treatment practices for the support of mental health issues during this unprecedented pandemic," says Program and Clinical Training Director Diane Menago, Psy.D. "The world of psychology is rapidly evolving to meet the needs of increasingly higher rates of depression and anxiety, and the pandemic has made it necessary to address these increased clinical concerns in alternative formats to reach a larger population of those in need. You can be a part of those solutions with a doctoral degree in counseling psychology from Holy Family University."
Holy Family University's Doctorate in Counseling Psychology program is now accepting applications for the Fall 2022 semester. Priority Deadline for applications: February 1, 2022. 
For more information (including admission requirements) please visit the program website.