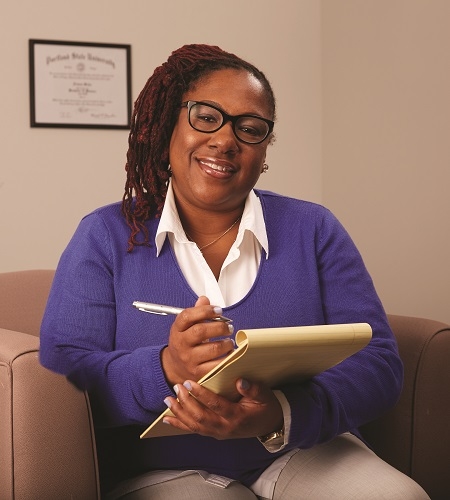 Doctor of Psychology in Counseling Psychology, Psy.D.
Doctor of Psychology in Counseling Psychology, Psy.D.
G
The Doctor of Psychology in Counseling Psychology (Psy.D.) program at Holy Family University is committed to a practitioner-scholar training model. The program is evidence-based and practice-informed, utilizing interventions that reflect the foundational values of the discipline of counseling psychology.
What Can I Do with this Degree?
The University's view of clinical training is consistent with the American Psychological Association's Standards of Accreditation for Health Services Psychology (HSP) and the guidelines for professional psychology training developed by the National Council for Schools and Programs in Psychology (NCSPP). 
Students who obtain this degree work in:
Community agencies
Forensic settings
Veterans Administration 
Healthcare settings
Private practice
College counseling centers
Higher education 
Program Information
Degree Awarded

Program Location

Required Credit Hours

90
Program Overview
Now accepting applications for Fall 2022
The Psy.D. program is a 5-year, post-masters, 90-credit program, conducted over the fall, spring, and summer semesters at Holy Family University, with both academic and clinical training components. The program was designed to meet the American Psychological Association's Accreditation Standards and prepare graduates for licensure in the state of Pennsylvania.
The Psy.D. program is designed to ensure that students will meet the competencies essential for achieving these three aims:
To develop knowledge of the fundamental theories and scientific foundations of psychology
To prepare for the ethical and competent practice of psychology across the lifespan with diverse populations
To join the scholarship of graduates who ensure the scientific foundation of psychological practice
The program has a strong commitment to the recognition of issues such as culture, race, and ethnicity as well as areas of diversity such as gender, age, socioeconomic status, sexual orientation, and ability. The program facilitates the development of clinicians who are able to promote psychological wellness across lifespan development for individuals, couples, families, groups, and diverse social systems. The training experience is thoroughly informed by the values of social justice, feminism, and multiculturalism.
Students are expected to meet a minimum of three full-time academic years of graduate study with a minimum of two of the three years of training being completed in residence in Holy Family's Counseling Psychology Psy.D. program. You will also be expected to complete a full-time, one-year pre-doctoral internship as a requirement of graduation from the program, at an internship site accredited by the APA (or the equivalent thereof ).
Student Journey
Accreditation Status
The Doctor of Psychology in Counseling Psychology (Psy.D.) program at Holy Family University accepted its first training cohort in September 2017. The program is not currently accredited by the American Psychological Association; we have submitted an accreditation self-study to APA and have been authorized for a site visit (Spring 2022). While this site visit is not an assurance of accreditation, we continue to work toward successfully achieving accreditation.
Questions related to the program's accreditation status should be directed to the Commission on Accreditation:
Office of Program Consultation and Accreditation
American Psychological Association
750 1st Street, NE, Washington, DC, 20002
202-336-5979
apaaccred@apa.org
www.apa.org/ed/accreditation
Admission Requirements
Applicants must possess the following qualifications for admission to the Doctor of Psychology in Counseling Psychology program: 
A master's degree in Counseling or a related field from an accredited college or university. 
3.5 GPA from Master's program. Masters level transcripts will be verified to ensure appropriate coursework and field experience prior to beginning program. 
Three satisfactory letters of recommendation from individuals familiar with the applicant's academic or professional work. 
An application form with a nonrefundable application fee. 
Interview with program faculty. 
A 250-500 word personal statement of clinical and research interests. The quality of the applicant's statement will be of critical importance to the success of the application for admission. 
Official transcripts of all previous college or university work. 
CV or resume 
Background Questionnaire 
Applicants will be considered based on their academic ability, expression of interests and goals, life experience, and personal interview. All cohorts begin in the Fall. Prior to admission, selected applicants will be invited to complete a personal interview with Counseling Psychology faculty. 
Please note that the program is limited in size because of the intensive training requirements. Although many applicants meet the criteria for admission, it may not be possible to admit all qualified students. 
Faculty
Core Faculty
Dr. Diane Menago, Program and Training Director, Associate Professor
Dr. Alexa Bonacquisti, Assistant Professor
Dr. Mindy Parisi Cummings, Assistant Professor
Associated Faculty
Dr. Shelley Robbins, Professor
Dr. Chet Rispoli, Affiliate Faculty
Dr. Nathalie Edmond, Affiliate Faculty
Student Admissions, Outcomes, and Other Data
Program Cost: Tuition and Fees
| Details | Cost |
| --- | --- |
| Full-time Student Tuition (3 courses per semester) | $9,225 |
| Tuition Credit Per Hour | $1,025 |
| Fees/Costs Beyond Tradition | Cost |
| --- | --- |
| General Fee Per Semester | $170 |
Attrition Rate
| Year | Attrition Rate |
| --- | --- |
| 2020 | 0 |
| 2019 | 1 |
| 2018 | 1 |
| 2017 | 1 |
Non-Discrimination Statement
Our Non-Discrimination Statement can be found at holyfamily.edu/ndstatement or call 267-341-3479.