Raenesha Sheppard '20 Presents on Literacy to School of Education Students
Raenesha Sheppard '20 Presents on Literacy to School of Education Students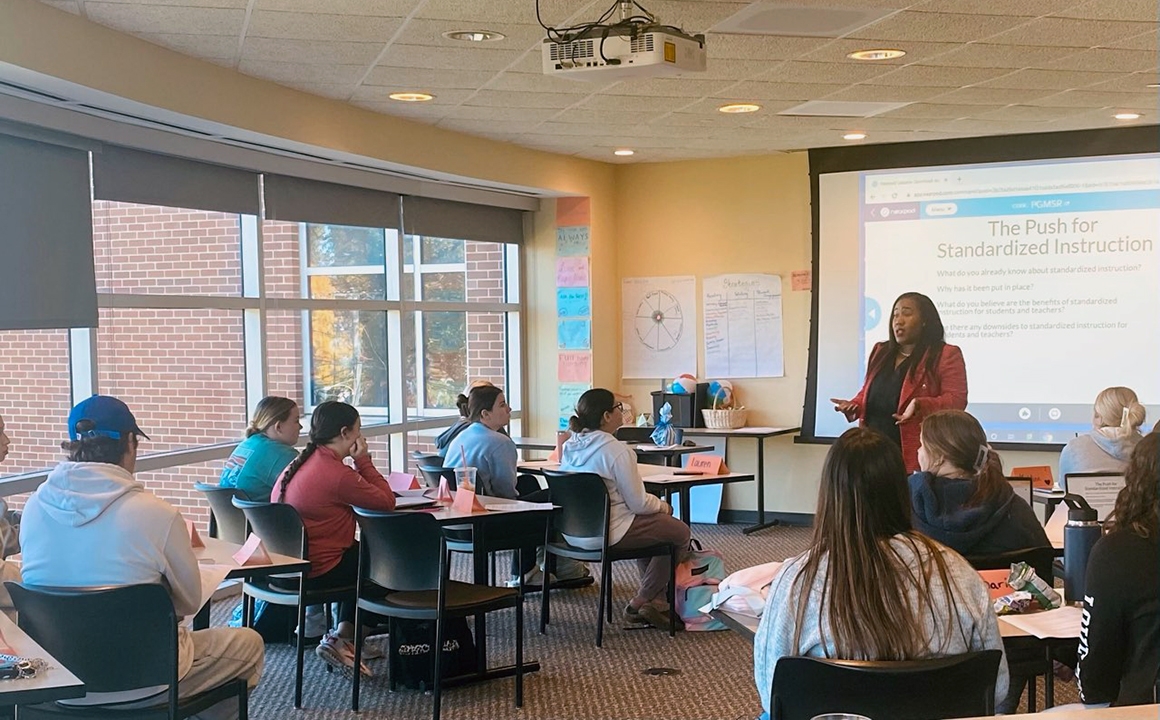 Holy Family University alumna and current doctoral student Raenesha Sheppard '20 recently presented on Literacy Learnings to the Language Arts Theory and Instruction class (EDEC 310) taught by Gerry Fitzpatrick-Doria '85, Ed.D., assistant professor in the School of Education.
In addition to her studies at Holy Family, Sheppard is the director of Literacy at Belmont Charter Network, a network of five charter schools in Philadelphia. Her presentation offered Holy Family students her perspective on classroom work and informed practice related to teaching literacy.  
"I had the honor of discussing the history and importance of standards-aligned English Language Arts instruction with aspiring educators in the undergraduate program," said Sheppard. "My goal for the guest lecture was for students to understand how standards-aligned instruction, along with providing appropriate scaffolds to address the needs of all learners, is a matter of equity. It is important that educators maintain the bar, celebrate our students' strengths, and provide appropriate support so mastering the content and skills are accessible to all."
"Saying that Raenesha Sheppard is incredible is an understatement!" said Chandra Muffett '24, a student in the School of Education, who attended the presentation. "She thoroughly discussed ways in which we teachers can incorporate Universal Design for Learning into our classrooms and how to assess students using a variety of different forms of assessments. For me, this event was very successful. The level of engagement was through the roof and students were able to elaborate deeper into Universal Design for Learning and the past, present, and future of education."
For more information on Holy Family University's education programs, please visit the School of Education website.