Returning to Holy Family University, Again and Again: Meet Jennifer Rodriguez '16, M'19
Returning to Holy Family University, Again and Again: Meet Jennifer Rodriguez '16, M'19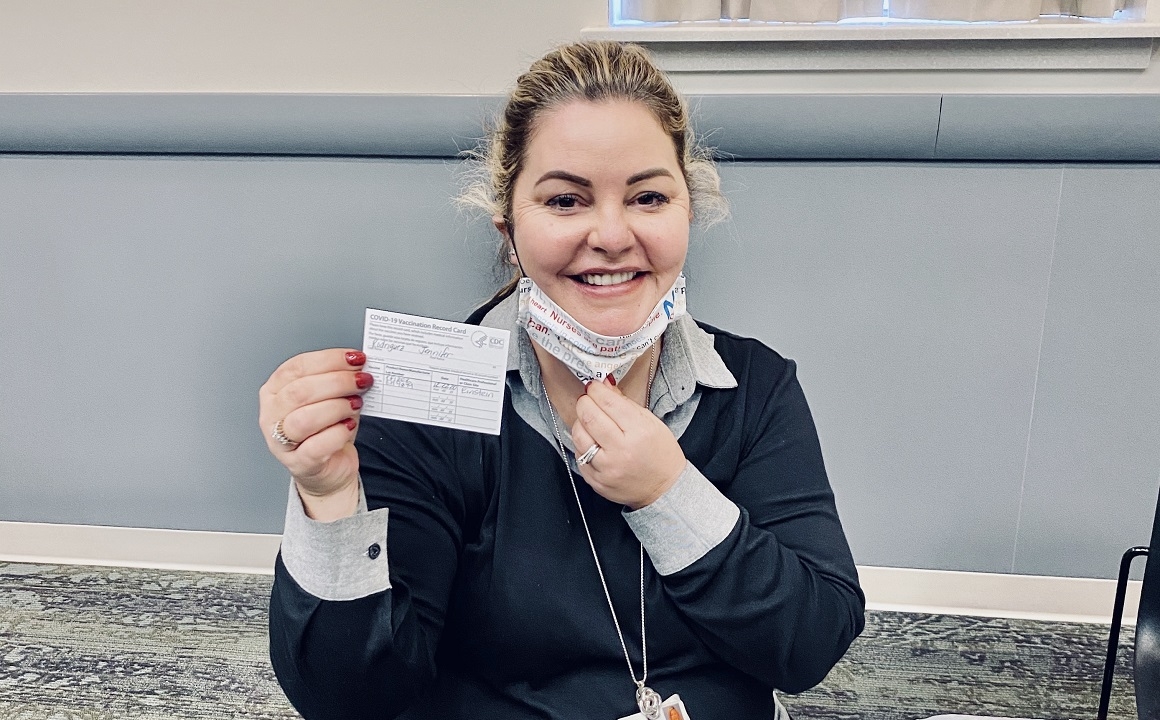 Holy Family University can count many double and even triple alumni among its over 20,000 alumni—that is, graduates who have completed multiple degrees at the University.
However, Jennifer Rodriguez '16, M'19 aspires to be able to call herself a quadruple Holy Family alumna. After completing her BSN and MBA degrees at Holy Family University, Rodriguez is currently completing her MSN degree at Holy Family and has applied to the University's MSN–DNP Family Nurse Practitioner (FNP) program.
Rodriguez began her career in nursing at an opportune time in healthcare for nurses. "When I graduated with my associate's degree in 2003, there was a huge nursing shortage and I started right away working at St. Christopher's ER, and soon after went to Temple's ER," says Rodriguez. "I managed to get through five years in my career without a bachelor's degree, but I was moving up in the administrative ranks and I was the only nurse leader at Temple without at least a bachelor's degree. One of the nurses I was working with recommended Holy Family University because many of the professors actively work in the field so they know what is relevant to today's nursing."
Rodriguez recalls that she was at first doubtful that she needed a BSN, but her experience at Holy Family quickly changed her mind. "I didn't realize how important the education was until I started taking my classes," she explains. "My bachelor's degree has continued to open doors for me. Once I completed my bachelor's degree, I moved up from being a manager to a director of operations. I ended up supervising eight to ten different units."
When Rodriguez was ready to earn her MSN degree, she first went to another school. However, she then decided to take a less traditional path to achieve her specific career goals in nursing. "I went to another school online first for my MSN, and I did not like the experience," she remembers. "Instead, I went back to Holy Family to get my MBA. I had a five-year goal to become a chief nurse working at a smaller community hospital that may not have a department of finance like a large academic institution has. As a chief nurse responsible for a hospital's budget, I would need to be able to figure that out."
Earning an MBA after completing a BSN degree was challenging, but Rodriguez discovered the support she needed at Holy Family. "It was a little tough for me because my classmates had done finance as undergrads," Rodriguez recalls. "But a great thing that is done at Holy Family is group learning. When you're paired with two or three people, everyone owns a piece of the project."
When Rodriguez decided to earn her MSN degree next, she began studying for her MSN at another university. However, after two semesters Rodriguez returned to Holy Family to finish her degree and upon graduating hopes to continue her education at the University in the MSN–DNP Family Nurse Practitioner (FNP) program.
Why does Rodriguez continue to return to advance her education at Holy Family? "Holy Family is so different—I feel that the people at Holy Family are invested in me and my career trajectory," she answers. "I truly feel supported in what I want to do. The faculty are all professionals who understand what is going on in hospitals today. I did not feel that support or connection at the other schools I attended. I've tried elsewhere, and hands down none of those experiences compared to my experience at Holy Family."
The School of Nursing & Health Sciences at Holy Family University provides a variety of degrees and study options for full- and part-time students. These include a traditional four-year bachelor of science in nursing, an accelerated RN to BSN nursing degree option, an accelerated second degree BSN, a Master of Science in Nursing, and a Doctor of Nursing Practice. For more information (including admission requirements), please visit the School of Nursing & Health Sciences website.