School of Education Hosts Student Teacher Career Night
School of Education Hosts Student Teacher Career Night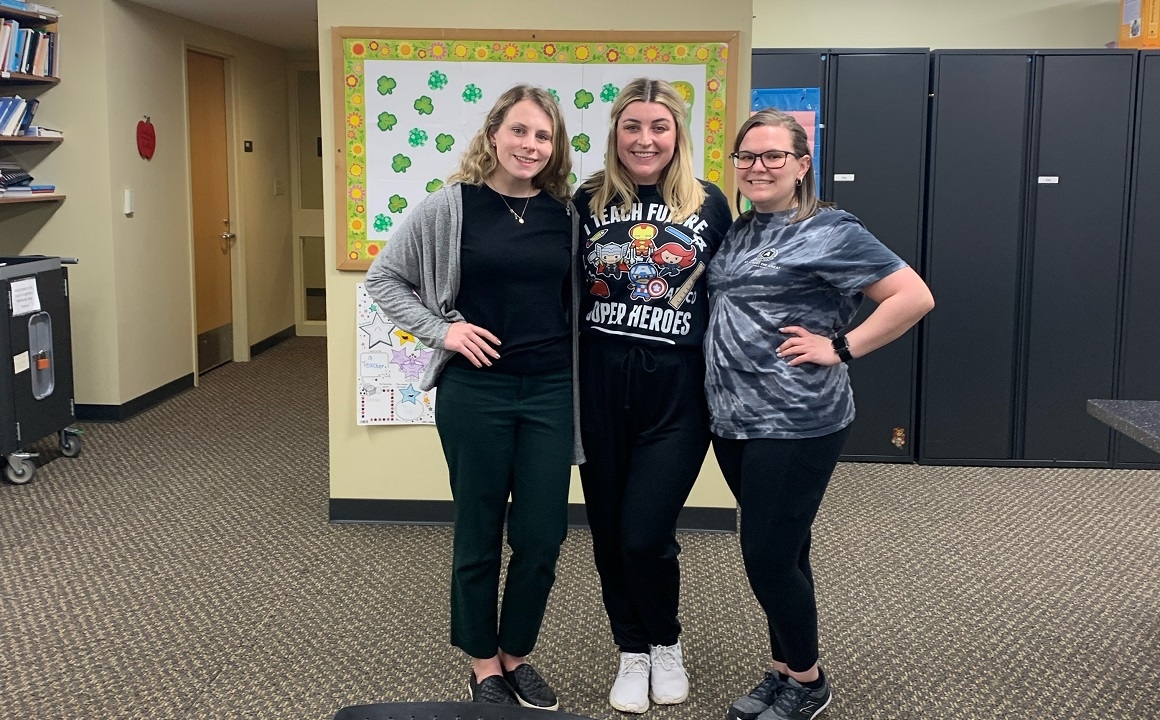 While preparing education students for classroom instruction is an essential part of any teaching education program, another important part of a future teacher's education is developing career skills to help them thrive in their careers as educators.
On March 8, 2022, Holy Family University's School of Education hosted the Student Teacher Career Night in the Education and Technology Center, a program that provided an informative opportunity for students to learn about the next steps in starting their careers in education. 
Maria Agnew, Ph.D., professor in the School of Education and organizer of the event, invited student participants to hear about important career skills, including job interview skills, insights on what to expect in the first year of teaching, and tips from veteran teachers. The evening's program included:
Brett Fucci, career pathways specialist, shared an overview of the career search services offered by the University's Career Development Center.
Members of our 2021 graduating class who are concluding their first year of teaching shared their first-year teaching experiences with additional insight from Dr. Agnew and other faculty from the School of Education, Trish Joergensen, Ed.D. and Roseanna Wright, Ph.D. 
Mary Becker, director of Alpha House, and the teaching staff of Alpha House spoke about what they have learned about classroom education from their years of teaching. 
Claire Sullivan, Ph.D., professor in the School of Education, answered students' questions about certification testing and other requirements for new teachers.
In addition, attendees were able to participate in a mock job interview with a team led by School of Education alum Chris Nevrincean '14 M'19, who also serves as liaison to one of the University's student teaching partner schools, Watson-Comly Elementary School. "I was happy to be part of the Student Teacher Career Night at Holy Family and found it extremely helpful as I begin to navigate the last months of my final semester at Holy Family," said School of Education senior Sarah Gates. "The highlight of the event was being able to do a mock interview with three tenured teachers and ask any questions that I had. I left feeling reassured and confident in the next steps to come."
"Attending the Student Teacher Career Night gave me a better understanding of what is offered, expected, encouraged, and the next steps I should be taking before graduation," said School of Education senior Lisa Werstler. "I've gained knowledge on resume building, goal setting, interviews, job searching, the life of a first-year teacher, and so much more."
Dr. Agnew believes that the event highlighted the strong support the School of Education provides to its students and alumni. "My favorite part about this event is bringing all of the different parts of the University and partner schools together to provide our students with everything they need to enter their first year of teaching," remarked Dr. Agnew. "To me, that is what the Mission is about—family taking care of family."
For more information on Holy Family University's education programs, please visit the School of Education website.