School of Nursing and Allied Health Professions Celebrates First Cohort Completing Second-Degree BSN Evenings + Weekends Program
School of Nursing and Allied Health Professions Celebrates First Cohort Completing Second-Degree BSN Evenings + Weekends Program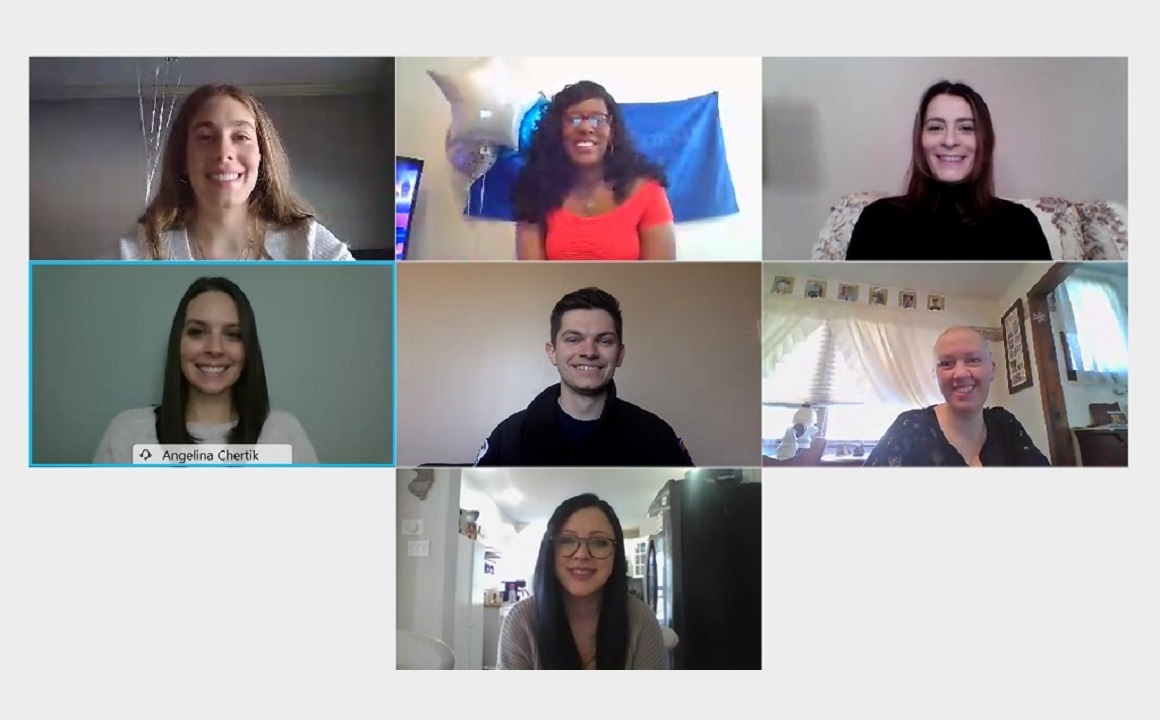 Seven School of Nursing and Allied Health Professions students—Kathryn Carlomagno, Lauren Chambers '11, Angelina Chertik, James Dollings, Allison Lisacchi, Krista Mora, and Sophia Winchester—are the first cohort of nursing students to complete Holy Family University's Second Degree Bachelor of Science in Nursing Evenings + Weekends 22-Month Cohort.
The program, which launched in April 2019, is designed to fit the schedules for working professionals with a baccalaureate degree from an accredited college or university who are seeking to become a professional registered nurse. The layout of the program features all courses, clinicals, and labs on the evenings and weekends without any full-time student commitments.
The seven students were honored in a virtual pinning ceremony on Friday, February 26.
Reflecting on her experience in the BSN program, Mora expressed that the evening/weekend schedule allowed her the flexibility to pursue her career goal of entering the nursing field. "Holy Family's Second Degree BSN Evenings + Weekends Program was exactly what I was looking for," Mora said. "It allowed me to fulfill my dream of going back to school to become a nurse while still being able to work and even raise a family. It was hard work, but with the help of my family, friends, classmates, and the faculty and staff, I am so proud to say I have finished my BSN!"
Winchester also praised the education she received at Holy Family University. "The program was set up from day one to ensure that I could continue my full-time job, while also pursuing my career," said Winchester. "While this program has been challenging, it has also been extremely rewarding. The caring nature and constant encouragement of the nursing professors and administration aided in my academic success. As I transition from a Holy Family student to a Holy Family alumna, I am excited to show the world the skills and knowledge I have gained from my time here. It is an honor to be among the very first graduating class of the Second Degree BSN Evenings + Weekend Program."
"The faculty and I are proud of the accomplishment of the inaugural group of graduates from our most recent nursing track, which supports working adults who wish to advance their careers in the discipline of nursing," said Cynthia A. Russell, Ph.D., RN, FAAN, ACC, Dean of the School of Nursing & Allied Health Professions at the University. "The richness of their previous degrees and work experiences creates a phenomenal foundation as nursing professionals. I anticipate that we will hear great praise for these exceptional students as they enter the workforce and make a difference in the lives that they touch as graduates of Holy Family University."
Holy Family University enrolls two Second Degree BSN Evening + Weekend Cohorts a year (spring and fall). Due to a limited number of spaces each semester, admission to the program is highly competitive. For more information (including admission requirements), please visit the program website or contact the Graduate and Professional Studies Office at 267-341-3327 or e-mail rapiddegree@holyfamily.edu.