School of Nursing & Health Sciences Holds Caring Day Retreat
School of Nursing & Health Sciences Holds Caring Day Retreat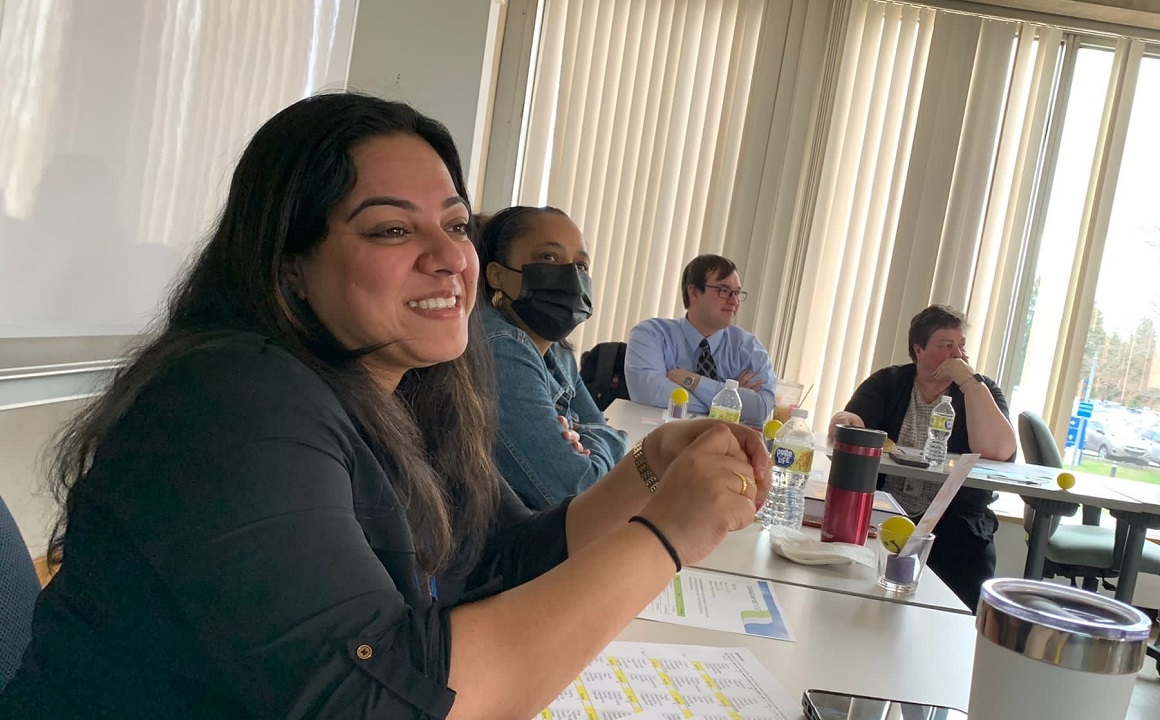 From even before the onset of the COVID-19 pandemic, the field of nursing has faced the challenges of long hours and burnout.
On Friday, April 1, 2022, the School of Nursing & Health Sciences held a Caring Day Retreat for faculty members to focus on caring and wellness within the healthcare community. 
The idea for the initiative was proposed by Margaret Harkins, DNP, MBE, GNP-BC, RN-BC, dean of the School of Nursing & Health Sciences, to introduce more focus on human caring into the nursing programs. "Everything that we do in nursing is based on some kind of theoretical framework," explains Bettyanne Matase, DNP, MSN, RN, assistant professor. "Jean Watson, a nursing theorist, developed the theory of human caring, which expresses that human caring is the fulcrum of everything that we do as nurses. As we treat our patients, we should also treat our colleagues and ourselves." 
"Healthcare nurses are feeling that they're not being cared about," adds Dr. Matase. "This is the most challenging time I have ever seen in the state of nursing. We need to figure out how to make our students and us more caring individuals and how to feel cared about."
The program was created to help address a need for the School of Nursing & Health Sciences. "Some former Holy Family nursing students expressed that the concept of caring could be embedded more in the curriculum," continues Dr. Matase. "We know how to teach students how to give medications and IVs, but how can we teach them how to care? We want to ensure that when our students graduate they feel cared about so that they care for their patients and other individuals that they come in contact with."
A committee led by Dr. Matase and including clinical instructors Catherine Hasson,  DNP, RN and Ellen Hufnell, MSN, RN; full-time instructors Kay Broughton, MSN, CRNP, CS, CNE and Katie Tottser, MSN, RN, CPCE, CHSE; and student representative Rinu Elsa Stephen, MSN, RN, was established to investigate how to better promote the concept of human caring in the School of Nursing & Health Sciences curriculum. The committee decided that the first step of the process was to hold a Caring Day Retreat for School of Nursing & Health Sciences faculty to introduce key caring concepts that faculty could incorporate into classroom instruction.
The half-day retreat included several sessions focusing on promoting caring and wellness in the healthcare community, including a session about self-care strategies presented by Patrick McElwaine '00, M'04, Psy.D., assistant professor, and a session on Reiki, a Japanese form of palm healing.
"I wanted to thank the caring committee for arranging such a great session for us," said Soumya Arun, RN, MSN-Ed, AGNP-BC, assistant professor, who attended the retreat. "We are always being cared for and appreciated here at Holy Family University. The Caring Day Retreat reminded each one of us about the importance of self-care and gave us a moment to pause and re-explore our worthiness and values. Dr. McElwaine gave us simple but great self-care tips. It emphasized the significance of radical care including an insight into maintaining our mental health for achieving self-actualization."
"Dr. Matase as a lead facilitator was the perfect choice to moderate a Caring Day Retreat," added Rose Elliot, MSN, MA, M.Ed., BSN, RN, nursing simulation lab coordinator. "Bettyanne has been one of the most kind, caring, and genuine nurse faculty here at Holy Family University. I thought one of the highlights of the day was listening to Dr. McElwaine guide us through a meditative self-care strategy. Pharmacist Ruby Chauri continued the mind, body, and spirit modality with a Reiki session. I hope that this is an annual event to focus on a Caring Day retreat for nursing faculty and staff."
For more information on Holy Family University's nursing programs, please visit the School of Nursing & Health Sciences website.