World Travel Shapes Ginsberg's View on Counseling, Psychology
World Travel Shapes Ginsberg's View on Counseling, Psychology
Dr. Freda Ginsberg has lived in three different countries and held an array of jobs in the service field—however, all of these jobs have remained true to one singular motive: helping others.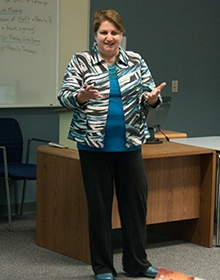 As the Director of the Counseling Psychology graduate program, she is now focused on educating and helping the latest group of students looking to make a difference in the world.
As an undergraduate student, she studied at Drew University, majoring in Comparative Religion and Women's Studies. As part of her education, Ginsberg lived and learned in Israel for two years. Once she graduated, Ginsberg officially immigrated to Israel, where she spent the next 12 years living in Jerusalem and Tel Aviv—an experience she described as both "amazing and intense."
"I lived through some wars, which affected me personally in one of the areas I lived," she said. "You learn a lot about immediacy. In the west, we are very planned and organized, and we think everyone else is. You learn about being multiculturally flexible. You learn that in the United States, race is the organizing politic, but in the Middle East, it is religion. You learn from a multicultural perspective that different variables can be the main political issue. I would argue here that religion is as well, it's just not as obvious."
"Tel Aviv is very modern, kind of urban, secular, and Mediterranean. You're on the coast; there are a lot of restaurants and the boardwalk. Jerusalem is the pinnacle of intensity in terms of religion and politics."
At the time, Ginsberg wanted to become a Jewish educator—a principal of a Jewish school or an academic in Jewish studies. However, she felt the topic became too narrow for her to pursue.
Sensing it was time to make a change, Ginsberg returned to the United States to obtain a master's degree in Human Services Psychology. This avenue allowed her to continue focusing on Jewish issues through her research, as well as help people.
"I've always known I was going to do service provision of some sort," Ginsberg said. "I thought it was just going to be teaching, but when I thought about becoming a professional, you go back to graduate school. I think a core asset I had was helping others. I definitely wanted to teach, but I also look back at myself as the person that people tell their problems too. Why don't I go see if I'm really cut out for psychology?"
After successfully completing her master's degree, on the urging of a professor, Ginsberg went right into a PhD program at Michigan State University, where she would spend the next seven years working on her dissertation, focused on Jewish identity.
"My research looked at secular Jewish women," Ginsberg said. "The predominant population in the United States of Jews is secular, not religious identified. They are more culturally identified. It validated for me a lot of my experiences in the United States, that in some ways we are an invisible minority because we are predominately Caucasian. In the United States, 97% of Jewish people are Caucasian."
"I learned a lot about how other Jewish women felt about being openly Jewish in a Christian country. Different Christian groups have different opinions about the Jews and our role in their story, for better or for worse. My age of Jewish women: we're post-Holocaust Jews. We live in a world where less than 70 years ago, the world was ok with trying to annihilate us completely. Half of the global Jewish population was destroyed. There's also that sort of psychological inheritance of being people who are doing relatively well in the United States, but prior to that, not so good."
At the tail end of her PhD program, Ginsberg once again left the country—this time to Canada. The decision to leave for Canada was based on a question Ginsberg asked herself: "Do I want to practice psychology or do I want to work in not-for-profit service delivery management?"
Ending up in the latter, Ginsberg began working at an organization that provided money for counseling, vocational services, and immigration help for those in need. Wanting to do more, she was offered a scholarship to pursue an MBA, which she accepted, while also opening her own private practice in Montreal.
"Montreal has unique issues. Canada is a bilingual country. English speakers in Quebec are considered the minority. They feel highly persecuted by the French to a large extent. There's a large movement in Quebec that wants to separate from Canada and make it a purely French country. I only treated English speakers at my practice. It was interesting because you're treating a minority within a majority, but when you think about North America, it's English speaking. You learn a lot by trying to help people. What you find underneath all of it is that everybody wants the same thing. They want successful relationships, some meaning in their career, and for those who want families, they want to raise good people and be good citizens."
Returning to her home state of Pennsylvania, Ginsberg became the Director of the Counseling Psychology graduate program at Holy Family University in July 2016. Taking everything she has learned, she is now helping educate the next set of Pennsylvania counselors and psychologists—fields that are rapidly evolving as the country focuses on insurance policies and newly developed treatment options.
"On one hand, it's the capitalistic takeover of medicine, which also effects psychology. If you don't understand business—how businesses work, and in particular, insurance—then you are not going to be able to practice or function well as a psychologist anymore. Alternatively, in the field of psychology—addressing diversity and social justice issues—that distress doesn't come from within. It is a byproduct of living in a world where you don't have what you need or people don't like people like you, or you are not paid as well as others. The field has become more multicultural and social justice oriented, but the world of psychology has become medicalized and capitalistic."
"How do you live in a world that is so focused on the bottom line and following these insurance protocols for treating people, which is very behavioral? We know distress isn't about physical symptoms. You need to change the world people live in. If people don't have food or a roof over their head, the world is distressing. They're going to be distressed, not because they have a neurochemical problem which makes them depressed, but because their life is depressing—it is harder."
Still, as future counselors and psychologists prepare to enter the work world after Ginsberg's tutelage, the goals remain the same, no matter the roadblocks they might face: help those who seek it, find happiness for those who lost it, and help facilitate the change that could resume normalcy for those in need.