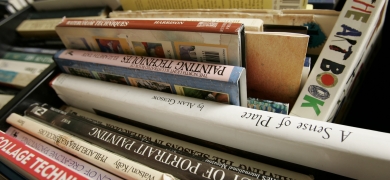 Honors Coursework
Holy Family University's Honors courses span a range of subjects. Each of them fulfills a General Education requirement for our Honors students. Because these students often take multiple Honors courses together in their first years, they quickly become a tight-knit cohort. In general, Honors courses are designed to:
Emphasize discussion and other interactive teaching/learning techniques that are consistent with a seminar format;
Promote independent thinking by making students accountable for important aspects of their learning;
emphasize written and oral communication skills;
Promote learning outside the formal classroom setting (e.g., service projects);
encourage creative expression and achievement;
apply theories and principles learned in class to "real-life" problems and situations;
Explore connections among various fields of study;
Provide opportunities for independent research;
Provide opportunities for publication or public presentation of work;
Develop assignments and exercises that require students to reconcile conflicting findings or to synthesize different points of view;
Emphasize the use of original or primary sources, as opposed to traditional textbooks and secondary readings.
The following Honors courses are typically offered during fall semesters:
BIOL 120HNR (Honors Biological Principles I)
ENGL 103HNR (Honors Writing I)
HIST 204HNR (Honors American History, 1820-1920)
MATH 150HNR (Honors College Algebra and Trigonometry)
PHIL 103HNR (Honors Introduction to Philosophy)
PSYC 110HNR (Honors Introduction to Psychology)
RELS 210HNR (Honors Jesus the Christ)
The following Honors courses are typically offered during spring semesters:
ENGL 104HNR (Honors Writing II)
ENGL 115HNR (Honors Public Speaking)
GNED 400HNR (Honors Interdisciplinary Core Seminar)
HIST 108HNR (Honors Global History to 500 C.E.)
RELS 104HNR (Honors World Religions)