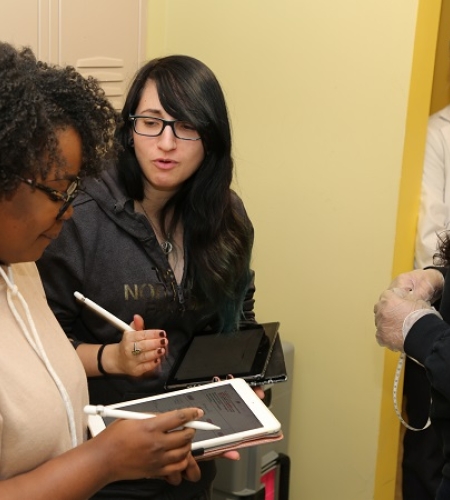 Criminal Justice, Minor
Criminal Justice, Minor
UG
The minor in Criminal Justice provides the student with an introduction to the fundamentals of law enforcement, the courts, and corrections and an opportunity to specialize in a particular area.
What Can I Do with This Minor?
The criminal justice field is filled with opportunities for employment and advancement within the field. The Criminal Justice minor prepares students for graduate study in criminal justice or criminology or a career in a criminal justice-related field.
Program Information
Degree Awarded

Program Type

Program Location

Main Campus - Northeast Philadelphia

Required Credit Hours

18
Where Students and Alumni Intern and Work
The Greater Philadelphia area is rich with opportunities for employment in the field of criminal justice. Students and graduates have worked within and are employed by a range of organizations including:
AHEDD
Allied Barton Security Services
Allied Universal
Atlantic Investigative Services
Atlantic Security International Investigation Inc
Bensalem Police Department
Bucks County Adult Probation
Bucks County Courthouse
Bucks County Department of Corrections
Bucks County Probation and Parole
Bureau of Alcohol, Tobacco, Firearms, and Explosives
Buxmont Academy
CORA Services
Carolyn Chang Law Office
Catholic Community Services
Center City Crime Victim Services
Central Behavioral Health
City of Philadelphia Juvenile Probation
Commonwealth of Pennsylvania
Community Legal Services, Inc.
Community Service Foundation at Buxmont Academy
Congressman Fitzpatrick's Office
Curran-Fromhold Correctional Facility
Delaware Valley Intelligence Center
Department of Homeland Security
Department of Navy Services
Deputy Clerks for U.S. District Court
Family Court of Philadelphia
Federal Bureau of Investigation
Federal Emergency Management Agency
First Judicial District of Pennsylvania Family Court
Flager & Associates
Imperial Events Security
Imperial Security
Juxtaposition Accurate Security Services LLC
Kings County Hospital Center
Kintock Community Correction Unit
Lockheed Martin
Marco Pignone, Attorney
Milestone Behavioral Health
Montgomery County District Attorney's Office
Montgomery County Public Defender's Office
NeuroAbilities
Next Generation Ministries/Spring Garden Academy
Nino V. Tinari and Associates
No Longer Bound Prevention Services
North Wildwood Police Department
Office of Judicial Records
Office of the Inspector General
PMHC
Parx Casino
Penn Foundation
Penn Vet Working Dog Center
Penndel Mental Health
Pennsylvania State Police
Philadelphia County Adult Parole and Probation
Philadelphia Department of Human Services
Philadelphia District Attorney's Office
Philadelphia Family Court
Philadelphia Family Court Juvenile Probation
Philadelphia Municipal Courts
Philadelphia Parking Authority
Philadelphia Police Athletic League
Philadelphia Police Department
Philadelphia Police Recruit Training
Philadelphia Sheriff's Office
Police Athletic League of Philadelphia
Police Recruit Training Unit
Pretzel Factory
Riverside Police Department
Rockledge Borough Police Department
Social Detection
Tom Gosse Law Firm
U.S. Capitol Police
U.S. District Court
U.S. Marshall's Office
Valley Day School
White Sands Ocean Front Resort
Women Organized Against Rape
YWCA
Youth Services Agency
Spring Open House
Hear from Admissions, Financial Aid, Faculty, and more, and discover all that Holy Family University has to offer.
Register for this Event
Campus Center, 9801 Frankford Avenue, Philadelphia, PA 19114