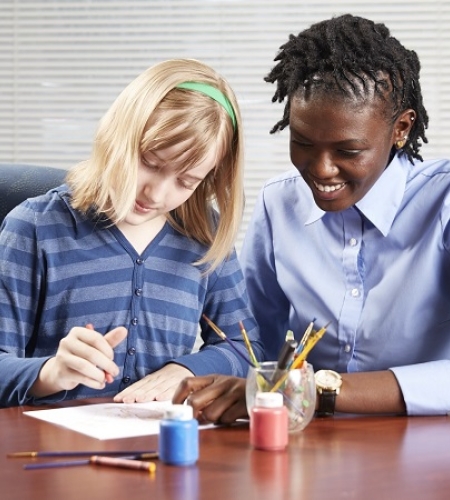 Early Childhood Education Pathway Program Pre K-4, B.S.
Early Childhood Education Pathway Program Pre K-4, B.S.
UG
Are you a working professional in a Pre K-4 field? If so, your path to teacher certification just got easier! If you have an Associate of Arts degree in Early Childhood Education or have completed your first two years of a four-year Early Education program, we have a "pathway" to degree and certification completion designed to meet your needs.
What Can I Do with this Degree?
The Bachelor of Science in Early Childhood Education Pre K-4 provides the necessary training for students interested in teaching at the Pre K-4 level. The Pre K-4 concentration enables students to become certified to teach all courses from Pre K-4 (nursery/age three) through fourth grade (age nine).
Program Information
Degree Awarded

Program Type

Program Location
Program Overview
Courses in the Early Childhood Education Pathway Program are offered year-round in the evenings, with both in-person and online experiences.  We currently have formal program-to-program agreements in place with the following colleges that allow you to complete your PreK-4 degree in as little as two years:
Community College of Philadelphia (CCP)
Bucks County Community College (BCCC)
If you attended another institution, contact us and we will evaluate your transcripts and work with you to create an individualized completion plan.
We are a T.E.A.C.H.-approved institution so you may be eligible for generous scholarships and compensation!  
Join our family and continue your path towards teacher certification.
Questions?
Contact us at ECEpathway@holyfamily.edu or call an admissions representative at 267-341-3555. We look forward to hearing from you!
Where Students and Alumni Intern and Work
School districts working with our students and employing our graduates include:
Archdiocese of Philadelphia
Bensalem
Bristol Borough
Bristol Township
Centennial
Central Bucks
Cinnaminson
Council Rock
Mount Laurel
Neshaminy
New Hope-Solebury
Pennsauken
Pennsbury
School District of Philadelphia
Spring Open House
Hear from Admissions, Financial Aid, Faculty, and more, and discover all that Holy Family University has to offer.
Register for this Event
Campus Center, 9801 Frankford Avenue, Philadelphia, PA 19114