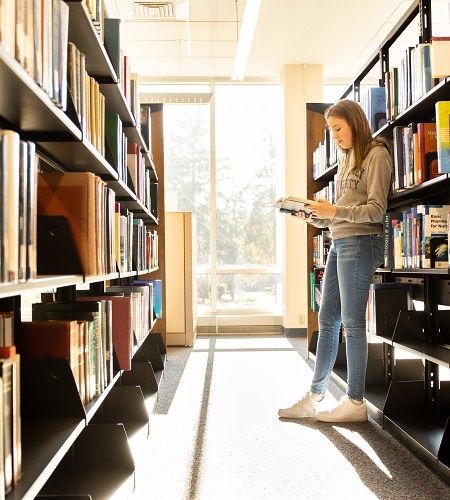 Education, Secondary Education, Certification in Social Studies, B.A.
Education, Secondary Education, Certification in Social Studies, B.A.
UG
The Social Studies certification in the Secondary Education major helps students prepare to be middle- and high-school teachers who are qualified to teach all of the following subjects, grades 7-12: History, Geography, Civics & Government (Political Science), Economics, Psychology, Anthropology, and Sociology.
What Can I Do with this Degree?
This program is designed to prepare students for a teaching career at the middle or high school level. Upon graduation from this program, students will qualify for the Pennsylvania Instructional I Certificate, which enables them to teach Grades 7 through 12.
We strongly believe in placing students into the field and into as many different classroom environments as possible. Our comprehensive field placement program, unmatched in its amount and variety of field experiences, starts with freshman year and continues until graduation. Our field experiences include the following features:
Field placements arranged for you by our Field Experience Office in a wide variety of settings, including public, private, urban, and suburban schools
Experienced cooperating teachers and supervisors for junior-level practicum and student teaching
University supervisors who provide regular feedback, coaching, and mentoring
Class field trips to apply coursework in school settings
Program Information
Degree Awarded

Program Type

Program Location

Main Campus - Northeast Philadelphia
Program Overview
Holy Family provides students with many opportunities to gain classroom and teaching experience. Our comprehensive field placement program connects students with a variety of field experiences from freshman through senior year.
Freshman and Sophomore Year—Observations
Holy Family's "Observation" experiences let students visit a wide variety of teaching environments. You will have the opportunity to visit public, parochial, private and charter schools. Through your own reflective journaling, you will relate what you are learning to the classes you're taking in your first and/or second years.
Junior Year—The Practicum
Junior year Practicum deepens your classroom experience. You'll be placed one full day a week in a school working in a classroom under the supervision of a master teacher. You'll do assignments, write lesson plans, teach several classes, and work with technology in the classroom.
Senior Year—Student Teaching
In your final year, as required by the Pennsylvania Department of Education, you'll do your "Student Teaching"—a full-time supervised semester in which you will gradually assume the full classroom responsibilities of your student teaching placement.
Where Students and Alumni Intern and Work
School districts working with our students and employing our graduates include:
Archdiocese of Philadelphia
Bensalem
Bristol Borough
Bristol Township
Centennial
Central Bucks
Cinnaminson
Council Rock
Hatboro/Horsham
Independence Mission
MaST Community Charter
Mount Laurel
Neshaminy
New Hope-Solebury
Pennsauken
Pennsbury
School District of Philadelphia
Spring Open House
Hear from Admissions, Financial Aid, Faculty, and more, and discover all that Holy Family University has to offer.
Register for this Event
Campus Center, 9801 Frankford Avenue, Philadelphia, PA 19114