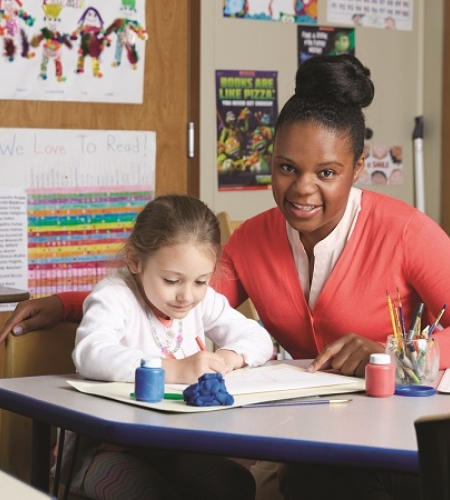 ESL Program Specialist Certification, M.Ed.
ESL Program Specialist Certification, M.Ed.
G
The M.Ed., Certified Teacher Additional Certifications program is designed for professional educators seeking an opportunity to study new areas of education and areas of special interest.
What Can I Do with this Degree?
Many of our program's graduates gain or continue employment as full-time teachers in public, parochial, or private schools.  These graduates often take on additional administrative roles and responsibilities including:
Assistant principal or principal
Curriculum coordinator
District-level administrator
Instructional support personnel
Reading specialist or supervisor
Special education teacher or supervisor
TESOL teacher
Program Information
Degree Awarded

Program Type

Program Location
Program Overview
This certification program offers experienced teachers the opportunity to develop expertise in a particular area of education. In addition, many of the concentration areas offered through this program prepare students for additional certifications or endorsements.  
Students who already have master's degrees have the option of completing just the certification requirements in an area without completing the entire master's program. Classes are offered in both a blended and online format, as 8-week courses.
Candidates for the ESL Program Specialist must hold a valid Pennsylvania Instructional I or II certificate. 
This program helps Level I certified teachers complete the requirements for obtaining Level II teacher certification in Pennsylvania.  Additional certifications that graduates of the program may be eligible to apply for include:
Special Education
Reading Specialist
Education Administration (Pennsylvania Principal certification)
ESL Program Specialist
Autism Endorsement
Students may also choose to pursue a more general concentration, with courses pulled from more than one certification area. This does not lead to additional certification but it does provide students with a master's degree and additional expertise in several areas.
Where Students and Alumni Intern and Work
School districts working with our students and employing our graduates include:
Archdiocese of Philadelphia
Bensalem
Bristol Borough
Bristol Township
Centennial
Central Bucks
Cinnaminson
Council Rock
Hatboro/Horsham
Independence Mission
MaST Community Charter
Mount Laurel
Neshaminy
New Hope-Solebury
Pennsauken
Pennsbury
School District of Philadelphia