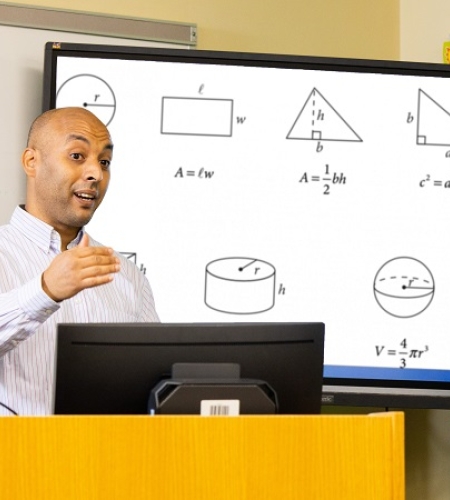 Mathematics, B.A.
The Bachelor of Arts in Mathematics is designed to increase your knowledge of advanced mathematical theory, analysis, and communication, as well as real-world data modeling.
What Can I Do with this Degree?
In addition to those students who go on to pursue studies in graduate programs and careers in education, many of our Mathematics graduates have found careers as:
Actuaries
Financial analysts
Financial planners
Network consultants
Pharmaceutical statisticians
Programmer analysts
Quality assurance engineers
Underwriters
Program Information
Degree Awarded

Program Type

Program Location

Main Campus - Northeast Philadelphia
Program Overview
Students develop critical thinking skills for solving complex science and technology problems and analyzing and effectively communicating mathematical theory. In addition, they learn knowledge that applies to fields such as computer programming, finance, education, logistics, management, engineering, data science, and space studies. This degree or the minor can help prepare students for graduate study.
Where Students and Alumni Intern and Work
Our mathematics graduates have wonderful success in careers that stretch the boundaries of the expected. Here are just some of the organizations where alumni are employed:
Baldi Middle School
Einstein Health Network
Hahnemann University School of Medicine
Independence Blue Cross
JW Hallahan Catholic School
John Hancock School
Keystone Aerial Surveys
NASA Engineer
Philadelphia 76ers
SEI
Sports Network
Thomas Jefferson University Health System
Travelers Insurance
University of Arizona
University of Pittsburgh
Spring Open House
Hear from Admissions, Financial Aid, Faculty, and more, and discover all that Holy Family University has to offer.
Register for this Event
Campus Center, 9801 Frankford Avenue, Philadelphia, PA 19114