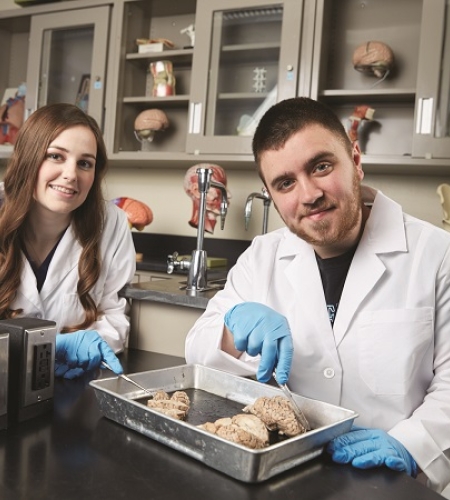 Neuroscience, Minor
The Neuroscience Minor is an interdisciplinary program that is supported by our biology/natural science and psychology programs. The field of Neuroscience examines the structure and function of the nervous system, as well as the interaction between the nervous system and behavior.
What Can I Do with this Minor?
Students in the Neuroscience program have the ability to customize the major to their interests. Students from the Neuroscience program enter careers or graduate programs in the following areas:
Applied behavior analysis-BCBA
Chiropractor
Clinical psychology
Clinical research assistant
Dentist
Occupational therapy
Optometry
Pharmaceutical sales
Pharmacist
Physician
Physician's assistant
Public health
Research coordinator
Science writer
Veterinarian
Program Information
Degree Awarded

Program Type

Program Location

Main Campus - Northeast Philadelphia

Required Credit Hours

19
Program Overview
Neuroscience incorporates many subfields such as biology, chemistry, and psychology. A degree in Neuroscience provides students with a unique opportunity to have a strong interdisciplinary background highly valued by prospective employers and graduate programs.
The Neuroscience minor provides minor provides an opportunity for the multidisciplinary study of the brain and behavior. The minor helps to prepare students from any major who are interested in health-related fields.
Where Students and Alumni Intern and Work
Some of the companies our students have worked with for their internship include:
Academy Injury and Health Chiropractic
ATI Physical Therapy
Children's Hospital of Philadelphia (CHOP)
Cognitive-Motor Learning Laboratory/Moss Rehabilitation Research Institute
Drexel University College of Medicine
Equilibria Psychological & Consultation Services
IPL Collaborative
Livengren Counseling Center
Lovaas Institute for Children
Ortho-McNeill Pharmaceuticals
Penn Vet Working Dog Center
Pennsylvania Mentor
Rau Animal Hospital
University of Pennsylvania School of Medicine