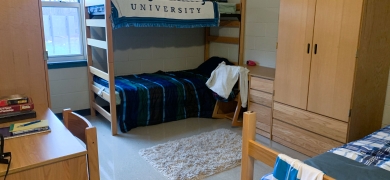 Residence Life FAQs
What are my Housing Options?
First-year students may select housing in St. Joseph Hall (SJH) or Stevenson Lane Residence (SLR), depending on availability. Current students may choose from any of the University's three residence halls. Placements will be based on availability for new students after the housing selection process has been completed for current students. Due to COVID-19, please be aware that changes may be made at any time based on City of Philadelphia guidelines, the behavior of the virus, cases in the area, and so forth.
What is a Community Assistant (CA)?
An CA is a student leader who is on site in your residence to assist you. The University places CAs in all residence halls. CAs are a great resource for questions, learning about campus, and getting involved with the community. CAs host programs and events, as well as handle policy violations. CAs are on duty every night starting at 8 PM, and their contact information will be posted for you.
When will I Receive my Fall Housing Assignment?
Official assignments are typically sent out the first week of August. This is because we have multiple adds/drops throughout the summer. The Office of Residence Life reserves the right to move/change assignments, as well as to fill any vacancies, at its discretion. Your housing assignment, as well as suite/apartment mates may be found by logging in to your eRezLife account.
What is eRezLife?
eRezLife is the University's housing management system. At any time, you may log in using your University credentials to view your housing assignment, meal plan, programs, announcements, and more. You may access the site by visiting holyfamily.erezlife.com.
What is the Canvas Course RES LIFE 101?
This "course" is a resource for residential students. Here you will be able to see programs, how to enter work orders, how to get in touch with offices, view copies of our contracts and other documents, and so forth. This is a great place to start if you have a question!
Can I Receive Mail while Living on Campus?
Students in all residence areas will receive their mailing addresses once they move on to campus. The mailboxes are specific to individual rooms and are shared by roommates. All students may send and receive mail using the University's mailroom located on the first floor of Holy Family Hall. Packages that are delivered that are too large for student mailboxes will be delivered to the mailroom.
The mailroom will email students directly regarding packages. Mailboxes are located in each building, including at the Garden Apartments. General addresses are as follows:
Student's Name
9801 Frankford Avenue
SLR Box #### or GAR Box ### or SJH Box ####
Philadelphia, PA 19114
The mailroom is closed on Saturdays and Sundays, as well as when the University is not open and for federal holidays. Students who are expecting mail during winter break are encouraged to use their home addresses to ensure receiving mail in a timely matter. During the summer, students should update their mailing addresses to their permanent addresses so that mail is not sent to the University. This includes magazine subscriptions, credit cards, bills, and so forth.
There are a number of businesses near campus that now run Amazon lockers for pick up. Students may wish to utilize those services if they want to receive mail after hours or on weekends.
What are the Policies for Living on Campus?
We recommend that you familiarize yourself with the Student Handbook, and review all policy documents that are posted and sent to you. The Policies & Procedures tab will take you to the Student Handbook. Some general housing policies include no smoking in the residence halls and a limitation of guests/visitors and overnight stays. No alcohol is permitted in the residence halls for students, regardless of age.
What Amenities Come with My Room?
While each area varies slightly, generally speaking, each room will contain a regular twin bed, a desk and chair, an armoire, and a dresser/closet area. Apartment students will need to provide their own kitchen appliances, utensils, and cookware. A refrigerator and stove are provided, and some units so have microwave ovens. Residents of SLR/SJH are permitted to bring a refrigerator (under 3 cubic feet) and a microwave oven for their rooms.
What Items Should I Bring?
Due to COVID-19, all residents are required to provide their own cloth face covering, gloves, thermometer, cleaning products, and sanitizers.
Suggested, but not exhaustive: Cleaning supplies, bed set or sheets/blanket, rug, trashcan, TV/radio/gaming system as desired, cable cord (cable access is in the room but you must bring the coax cord – 1 per room), a locked box or safe (if bringing valuables), paper plates, cups, dishes, headphones, shower accessories (caddy, flipflops, soap/shampoo, robe or large towel, wash cloths), liquid laundry detergent, toilet paper, and paper towels as back up, laundry basket/bin, hangers, a refrigerator (if desired‐ approximately 3 cubic feet max), snacks and drinks (be sure all are sealed and kept properly to avoid insect issues, bike lock (if desired) for the bike rack outside only, power strips with surge protectors, umbrella, clothing, lamps, appliances such as K-cup brewer or coffee pot are best with automatic shut-off options, sewing kit, flashlight, chargers for your electronics, laptop/computer with wireless hook-up capability, and a cell phone (no landline phones in the room).
What Items Should I Leave at Home?
Please leave these items at home (not exhaustive): Bed risers (SLR is allowed to bunk but only through doing a maintenance request), alcohol/alcohol bottles (including shot glasses for decoration), halogen bulbs, lamps with plastic covers that can melt/burn, extension chords (use power strips), rope lighting (that is covered in a clear tube), instruments and/or amps/subwoofers, vaping, e-cigarettes and hookas, candles (even if for decoration), portable heaters, hoverboards, drones, paintball, BB or other toy guns, grills, and lighter fluid/gas, firearms, knives, other weapons, fireworks, pets (except for fish in a five-gallon or smaller tank - one tank per person), old/second-hand furniture that has not been checked for bed bugs or other pests.
Does the University Offer Storage for Items During Breaks?
No. Students are not permitted to leave behind items during the summer months. We do allow students to leave items between the fall and spring semesters.
What Should I Do if I Decide I Want to Commute (prior to moving in)?
To cancel, you may email reslife@holyfamily.edu. You will be refunded if this occurs prior to the start of a semester.
What Should I Do if I Decide to Cancel Housing (once I have moved in or between semesters)?
The University's housing contract is for one full academic year. If you choose to leave between the fall and spring semesters, there is a $500 cancellation fee. Those with financial hardship may request a Financial Hardship Form from reslife@holyfamily.edu to submit on their behalf. If you leave mid-semester, or after you have moved in, you will not receive a refund on the remaining portion, or time you were on campus.