Academic Technology
What Do We Do?
Canvas LMS Support 
Faculty Consultations & Workshops
Syllabus & Content Review
Technology Tools for Teaching and Learning
Outcomes & Assessment Alignment
Course Design & Evaluation
Who Do We Help?
New to using Canvas LMS'
Never taught online classes and/or teaching an online class in the upcoming semester
Need a refresher or help with a Canvas LMS issue
Need help with any instructional tool or classroom technology
We're Here to Help?
Gloria Carrasco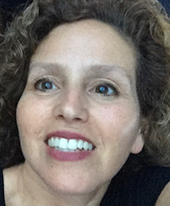 Gloria Carrasco is an instructional technologist in the Academic Technology department at Holy Family University. She has a B.A. in English from the University of Maryland and a master's in Educational Technology from Florida Gulf Coast University.
Gloria worked in the field of education as an English and ESL teacher for more than twenty years. She is passionate about driving digital learning and empowering educators with the tools and strategies they need to engage their students in the digital era.
Gloria has taught online and face to face courses in the U.S. and abroad. She is committed to assisting educators in creating captivating course content in the Canvas platform and infusing new technologies such as adding quizzes to videos, podcasts, digital storytelling, and gaming platforms. Gloria can also help faculty improve course design and keep you updated in the lates educational technologies. 
Academic Technology
Our team provides support and resources for students, graduate students, and faculty. Our staff collaborates with campus partners to assist instructors in enhancing their teaching tools, whether on campus or online, to deepen student learning.