Making An Appointment
Making An Appointment
Schedule a Counseling Service
If you are not able to find an appointment time that fits with your schedule, please email counselingcenter@holyfamily.edu and let us know. Leave your name, student ID #, and the best number to contact you. A counselor will get back to you to discuss the situation and try to find a solution.  
Appointments
Counseling appointments vary in time length depending on the type of services being provided.
Please arrive on time for your scheduled appointment.
When you schedule an appointment via the self-booking system on our page, you will have the option to select your appointment type.
The Counseling Center is open from 8 a.m. to 4 p.m. Mon - Fri. Appointments are available during normal business hours.
If you have not been to the center within the current semester, you will first need an Initial Intake Appointment to determine which of our services best fit your needs.
Please be prepared for your appointment by thinking about what you would like to discuss, what your goals are for the session, and by participating fully in the appointment.
You are responsible for remembering your scheduled appointments. 
Attendance Policy
If you need to cancel a scheduled appointment, you must notify us at least 24 hours in advance. We ask that you not miss, cancel, or reschedule appointments unless medically necessary or in the case of an emergency situation.  
Additionally, if you miss, cancel, or reschedule any appointment, you are to discuss the reason for doing so with your Counselor.
More than two missed, canceled, or rescheduled appointments within a semester may result in discontinuation of your eligibility to participate in our services for the rest of the semester.
An exception to this policy includes mental health emergencies, in which case, emergency services are always available to you. 
If you miss a scheduled appointment, you are responsible for rescheduling the appointment. If you do not reschedule within five business days, or if you do not attend your first scheduled appointment, we will assume you are no longer interested in our services. You may, of course, re-apply for service at any time
Confidentiality
The Counseling Center cares deeply about maintaining your privacy and confidentiality. As licensed Mental Health professionals, we are legally bound by federal laws, state statute, and our respective professional ethics codes to safeguard any and all information, including whether a student has been seen or not.
Communications between a Counselor and student/client are confidential and are not disclosed outside of the Counseling Services Center without written consent from the student/client. However, exceptions to confidentiality are sometimes made and include the following situations:
If there is risk of imminent harm to the student/client or to another person or hospitalization is a result thereof.
In instances of abuse or neglect of a child or a vulnerable adult.
If you are pregnant and using a controlled substance for non-medical purposes.
If you enter into litigation with Holy Family University with regard to the treatment you received at the Counseling Services Center.
If a court or administrative agency orders disclosure.
If there is a request for records that an applicable licensing board or its agents consider necessary for disciplinary proceedings.
Access to records by staff within or working on behalf of the Counseling Services Department where their duties require such access.
We are happy to work with faculty and staff to coordinate care for students when there is a release of information in place. You may print this Authorization for Release of Clinical Information Form and invite the student to sign it if you and the student believe that you can be a valuable ally and support to the student's treatment. 
Referring a Student to the Counseling Center
We encourage parents, faculty, staff, and peers to refer students to the Counseling Center. Due to confidentiality laws and our policies, a third party, including a parent, is prohibited from scheduling an appointment for a student.
A student who wishes to visit the Counseling Center must contact the Counseling Services directly and voluntarily request services by booking an appointment and completing necessary paperwork.
If you wish to help a student, you are welcome to assist the student in booking an appointment online. You can also contact the center to consult with a Counselor and provide helpful information about the student and your concerns.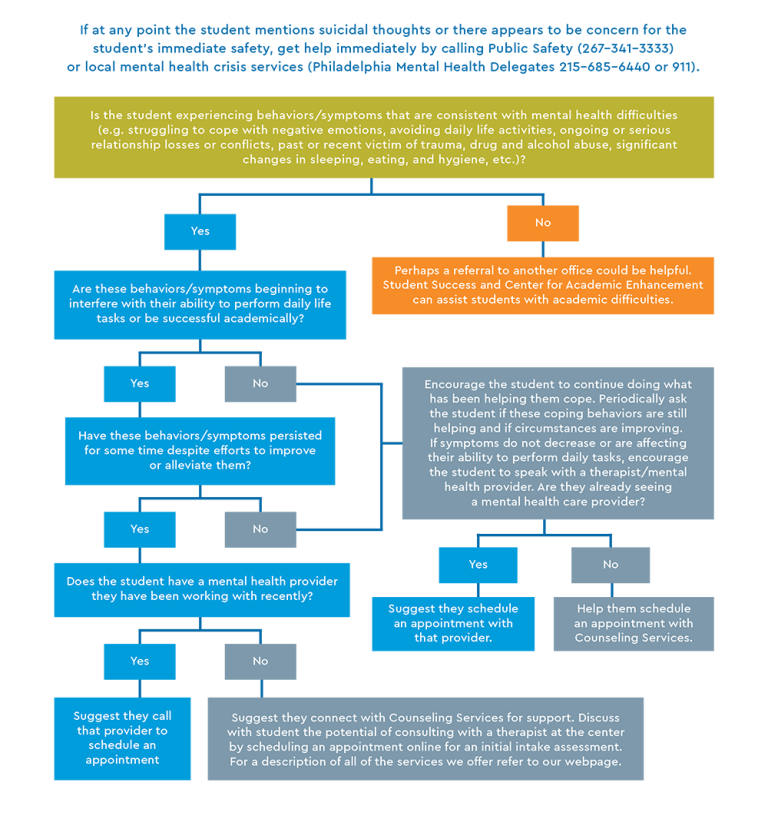 What to expect after booking the Initial Intake Assessment
You will be contacted after booking an appointment, and you will be sent 4 forms to complete (Student Request for Services, Telepsychology Consent, Consent, and Rights and Responsibilities Forms). These forms are required and assist us in preparing for your appointment.
Your first appointment is an Initial Intake Assessment Session with a licensed psychologist or mental health counselor who will listen to your concerns and determine the best plan of action with you. This session typically takes 45 min and could take up to 2 sessions to determine the type and level of support that is best suited for you.
During this session, the Counselor will discuss treatment recommendations and answer any questions you have about these recommendations. The process is collaborative and based on the information you provide to the Counselor. The more information you can provide about past and present symptoms and treatment, the better the Counselor can help you.  
New Client Intake Forms are required and must be completed and submitted to the Counseling Center by 8:00 a.m. the morning of your initial intake assessment appointment. Please budget 30-45 minutes to complete and sign these forms.
Forms not submitted by 8:00 a.m. the morning of your appointment will result in cancellation of the appointment, and you will need to reschedule your appointment as these forms are necessary for the Counselor to review prior to your appointment.
What to expect at a Let's Talk Drop In Appointment
Let's Talk Drop in Sessions provide students with easy to access, free, brief problem-solving oriented consultations with counselors from the Counseling Center. Sessions are typically 20 minutes long. 
What to expect at a Same Day Emergency Appointment
A Same Day Emergency Appointment is a same day session with a counselor for students experiencing high levels of psychological distress. Session focuses on assessing level of distress, offering help tolerating negative emotions in the moment, determining the level of support and treatment needed, and giving assistance in obtaining additional support.