Psy.D. Program in Counseling Psychology Hosts Fifth Annual Ethics Forum
Psy.D. Program in Counseling Psychology Hosts Fifth Annual Ethics Forum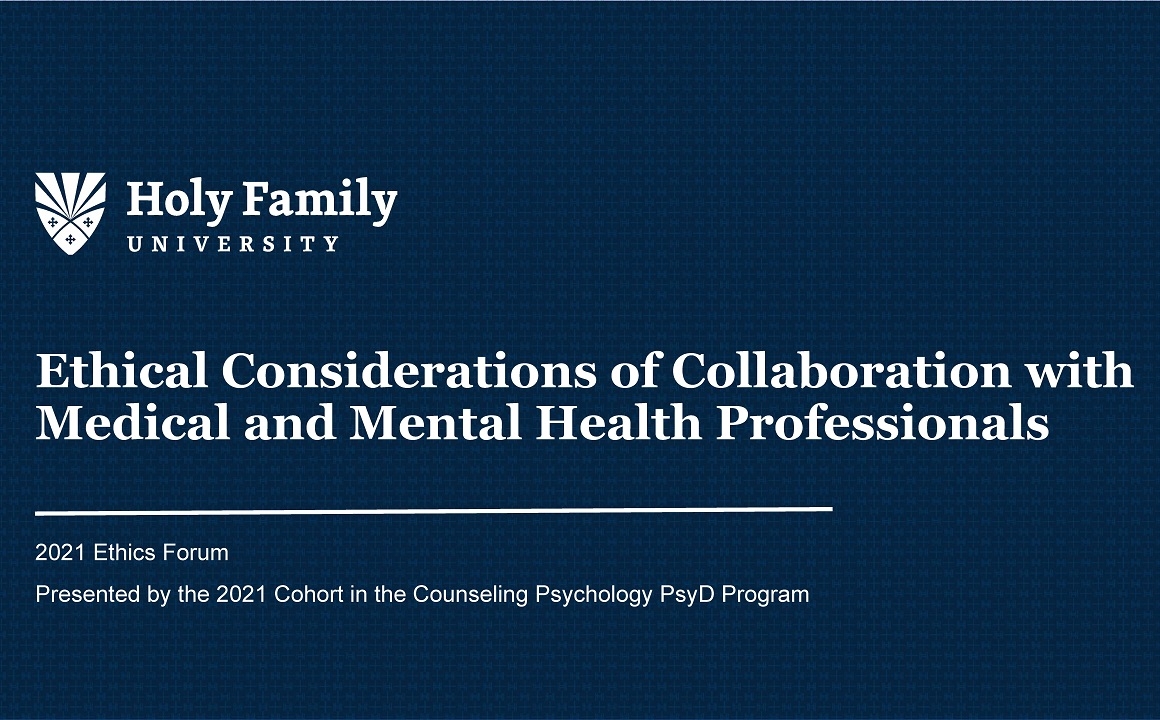 The Psy.D. Program in Counseling Psychology at Holy Family University hosted its fifth annual Ethics Forum on Tuesday, November 23, 2021.
This live, virtual event included presentations from students in the Psy.D. and the Master of Science in Counseling Psychology programs.
The Psy.D. students presented on Ethical Considerations of Collaboration with Medical and Mental Health Professionals. This presentation addressed critical and emerging issues related to interdisciplinary collaboration, including the management of chronic pain, medical marijuana use, and co-occurring disorders. Presenters offered a variety of perspectives on different ethical considerations in collaborative care and discussed how the intersection of equity, access, and inclusion in medical and mental health care may impact ethical decision-making.
Following the Psy.D. student presentation, a virtual poster session was held to highlight various ethics and advocacy topics presented by Master of Science students in Counseling Psychology. The virtual poster session consisted of breakout rooms during which attendees could view brief presentations of different posters. Poster topics were broad and far-reaching, covering many areas in counseling psychology, social justice, and advocacy.
"The Ethics Forum is important to the Holy Family University community because it integrated multiple programs creating a collaborative and intersectional academic environment," said Cassandra Jimmink, a student in the Psy.D. program. "As a first-semester student in the Psy.D. program, I feel supported and acknowledged by the Holy Family community in my academic and professional endeavors."
All posters are available for viewing here: 2021 Ethics Forum Virtual Poster Session.
The winners of the 2021 Ethics Forum Best Poster Awards were:
1st Place Poster Award:
Aneesa Liriano "Adolescent Mental Health Wellness in the School System"
2nd Place Poster Award:
Maria Diaz "Assessing the American Corrections System: The Need to Reform"
3rd Place Poster Awards:*
Tracey Perdue "PTSD in Veterans"
Michele Stulman "Equality for Families within the Philadelphia Family Court System: Ethical Dilemma with Court Ordered Psychological Evaluations"
Brian Booth, Jr "The Mental Health Issues of People of Multiracial Origin and the Resources Available to Them"
Diaka Thiam "Mental Health Stigma in the African Community"
*Four posters were tied for third so 3rd Place Poster Awards were given to all
For more information on the Master of Science in Counseling Psychology or the Psy.D. programs at Holy Family University, contact the Graduate Admissions Office at gradstudy@holyfamily.edu or 267-341-3327.