Students, Faculty and Staff Volunteer for Virtual MLK Day of Service
Students, Faculty and Staff Volunteer for Virtual MLK Day of Service
On Monday, January 18, 2021, Holy Family University continued its annual tradition of the Martin Luther King Jr. federal holiday being a "Day On" for the University community with the MLK Day of Service.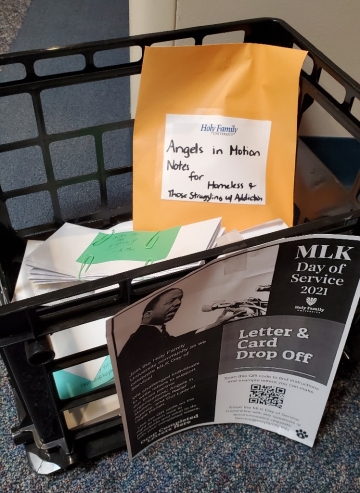 While COVID-19 restrictions changed the nature of the yearly event this year with the main program being held virtually, one aspect that did not change is the University community's commitment to serving others.
During the virtual program participants engaged in service projects at home, including creating blessing bags and cards for the elderly. In addition, viewers heard from representatives from the three MLK Day of Service partner organizations: Angels in Motion, Jewish Relief Agency, and Our Lady of Hope Parish to learn about what they could do to help support their causes with socially-distant volunteer opportunities.
"At a time with so many competing priorities and world upheaval, we are proud of people that have shown up to help serve others," said Ruth Ann Roberts, associate director of Student Engagement and Chair of the MLK Day of Service Committee. "We had over 100 people join us virtually and over 40 people that made donations and/or submitted letters, and none of this would have been possible without the commitment to service from our community."
The MLK Day of Service Committee has outlined additional socially-distant volunteer opportunities, contact-free donation drives, and simple acts of service to conduct throughout the year. View the list at holyfamily.edu/service.