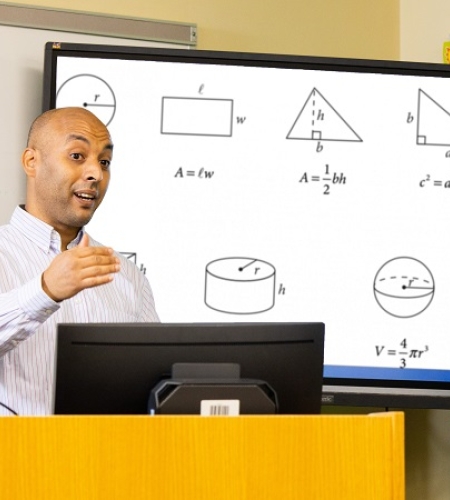 Actuarial Science, Minor
Actuarial Science, Minor
UG
The minor in Actuarial Science is a multidisciplinary minor which focuses on the application of mathematics and statistics to the study of risk management. Actuarial Science uses mathematical methods to define, analyze, and solve business and social problems.
What Can I Do with this Minor?
Actuaries are needed in any field that must weigh the financial consequences of risk and are often employed by insurance companies, banks, consulting firms, investment firms, hospitals, and governments. Those who opt to pursue this minor typically enjoy problem-solving.
A career in Actuarial Science has consistently been listed as one of the top professions in the United States. Becoming an Actuary requires the successful completion of a series of examinations to earn an actuarial designation either through the Casualty Actuarial Society (CAS) or the Society of Actuaries (SOA). Generally, an individual can begin an actuarial career by passing the first two exams, thus achieving the designation as an Actuarial Assistant.
Actuaries apply mathematical, statistical, economic, and financial knowledge to many real-world scenarios. The need for qualified actuarial scientists is anticipated to increase by 25% in the next decade. Students who earn a minor in Actuarial Science may explore the following career opportunities:
Catastrophe modeler
Data scientist
Financial analyst
Hedge fund Analyst
Insurance account manager
Portfolio analyst
Product manager
Ratemaking manager
Reinsurance director
Risk analyst
Senior analyst
Workman's compensation actuary
Program Information
Degree Awarded

Program Type

Program Location

Main Campus - Northeast Philadelphia

Required Credit Hours

20
Program Overview
A unique feature of the Actuarial Science minor is its flexibility. Students are provided with multiple options for completion, based on their major. Option I or Option II of the minor will help to prepare the student for the Casualty Actuarial Society and the Society of Actuaries (CAS/SOA) Joint Exams 1 and 2 and meet the Validation by Educational Experience (VEE) requirement for Economics. Option III of the minor in actuarial science will help to prepare the student for CAS/SOA Joint Exam 1 and meet the VEE requirements for Economics.
Admissions Open House
Highlights include academic workshops, campus tours, financial aid, and student life information.
Register for this Event
Campus Center, 9801 Frankford Avenue, Philadelphia, PA 19114