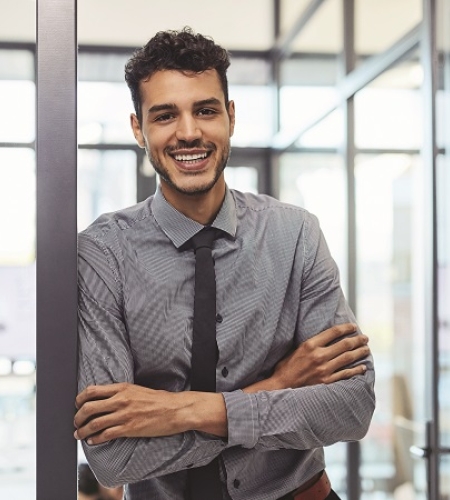 Business Administration for New Professionals (4+1 Program), B.A, M.B.A.
Business Administration for New Professionals (4+1 Program), B.A, M.B.A.
UG
The New Professionals BA/MBA 4+1 program is designed to enable full-time Holy Family University students seeking to earn both a Bachelor of Arts in Business Administration and a Master of Arts in Business Administration in just five years, saving both time and money. Undergraduates seeking admission to the dual-degree program must have a cumulative GPA of 3.0 and are eligible to apply in the spring semester of the sophomore year.
What Can I Do with this Degree?
As the demand for managerial positions increases in the workforce, earning your MBA early in your career is a wise investment. According to a 2020 survey of corporate recruiters, the median salary of MBA graduates can be up to 75% more than that of those who hold an undergraduate degree. The 4+1 program allows you to take advantage of the opportunity to earn your MBA in less time and at reduced tuition and start reaping the benefits of a graduate degree as soon as possible.
Program Information
Degree Awarded

Bachelor of Arts
Master of Business Administration

Program Location

Blended
Main Campus - Northeast Philadelphia
Online
Program Overview
Holy Family's New Professionals MBA is a 36 credit, 12-course program and is one of the most affordable in the Philadelphia region. You may select one of the following concentrations to meet your professional goals: Administration, Criminal Justice, Finance, Healthcare Administration, or Human Resource Management. The first courses in the program are in a blended format, but more advanced courses are offered either blended or fully online, so you can choose the option that fits best with your schedule and location. If at any time life after graduation becomes hectic, Holy Family also allows you up to three years to complete your MBA degree, without charging fees to stay active in the program.
Where Students and Alumni Intern and Work
A2DRadio.com LLC
American Heritage Credit Union
Archbishop Ryan High School
Atlantic Diagnostic Labs
C-Biz
Career Directions
Central Jersey Tents
Chik-Fila Whitman Square
Code Ninjas
Comcast Spectacor - Wells Fargo Center
CompuData
Defense Logistics Agency
Department of Licenses & Inspections
DLA
eAuditRx
Failsafe Advisors
FANTASYSTAND
Father Judge High School
First Heritage Realty Alliance
Flyers Skatezone
Forrest Elementary
Fox Chase Lock & Key Incorporated
Franklintowne Charter
Fusion Gym
Garces Events
Gloucester County Institute of Technology
HBK CPA's & Consultants
Intelligent Networks Inc
Interiors by Donna Hoffman
Jetzy
KD Financial
Kinney Center for Autism Education and Support
Kreischer Miller
Livengrin
Morsion Cogen LLC
Niehoff Endex North America Inc
Northeast Chamber of Commerce
Patch Management
Philadelphia Gas Works
Philadelphia Public League
Philadelphia Soul
Phoenix Nexus Corporation
Rosenberg, Smith, Cooney, & Migliore, PC
School District of Philadelphia
Sofive Soccer Center
Spectrum Sports
Spike's Trophies
Sponsor United
SR Snodgrass
St. Clair CPA Solutions
St. Huberts
Torresdale Library
Trevose Day School
YMCA