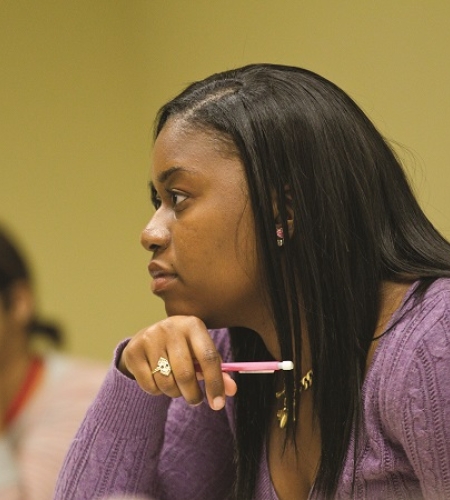 Psychology, B.A.
The Psychology major examines the scientific study of the brain and behavior. Students have the opportunity to take coursework in many subfields of psychology including biological, clinical, cognitive, developmental, and social psychology.
What Can I Do with this Degree?
Students who have majored in Psychology have found jobs at psychiatric hospitals, community mental health centers, and schools—whereas others have gone on to pursue graduate degrees. With a degree in Psychology, students have the ability to start a career or graduate program in the following areas:
ABA counselor
Advertising
Clinical and counseling psychology
Clinical research assistant
Correctional psychology
Early childhood behavioral specialist
Education
Family therapy
Forensic examiner
Forensic science technician
Human factor psychology
Human resources
Law enforcement
Market research
Nonprofit management
Occupational or physical therapy
Pharmacy technician
Public relations
Real estate
Recreational therapist
Research coordinator
School counselor
School psychology
Scientific writing
Social policy research
Social work
Sports psychology
Substance abuse counselor
Teacher's assistant
Program Information
Degree Awarded

Program Type

Program Location

Blended
Main Campus - Northeast Philadelphia
Online
Program Overview
The Psychology program provides students with a strong foundation for various careers and graduate programs. Students take core courses in psychology to build an interdisciplinary background over the first two to three years. In their junior and senior years, students have the opportunity to explore other areas of interest. Many students choose to incorporate a minor in either Childhood Studies, Mental Health Services, or Gerontology to complement their interests in the major.
Where Students and Alumni Intern and Work
21st Century Learning
All Saints Episcopal School
Arc
Archdiocese Office for Child and Youth Protection
Archdiocese of Philadelphia
Atlantic Diagnostic Laboratories
Baldi Middle School
Bayada
Beacon Point Recovery
Better Homes of American Heritage Realtors
Blessed Margaret Costello Home for Crisis Pregnancies
Buxmont Academy
CHOP
CO-MANS
Career Directions
Center for Families and Relationships
Chakra Consulting CO
Chesterbrook Academy
Child Guidance Centers Resource
Children's Crisis Treatment Center
Children's Hospital of Philadelphia
Compassionate Care
Council Rock School District (South)
Dale P Myrtetus, LCSW
ESF Summer Camp
Emmaus Home
Esparanza Academy
FMV (Families of Murder Victims)
Families of Murder Victims
Father Judge High School
Feast of Justice
Forrest Elementary
Foundation Community Partnership
Foundations Behavioral Health
Franklin Towne Charter High School
Friend's Hospital
Goddard School
Heraeus
Holy Redeemer
Hope Lutheran
Huntington Learning Center
IPL Collaborative
IRS
John Hancock School
Just Children Child Care Center
Kensington Management services
Keystone Freedom Academy
KidsPeace
Kindred Hospice
Kinney Center for Autism Education and Support
Kintock Group
Kol Emet
Labrum Middle School
Learn Empower Grow
Levingrin
Libertae
Little People Daycare
Livengrin
Magic Memories
Maple Point Middle School
Merakey
Milestone Behavioral Health
Mitzvah Circle Foundation
Nationalities Service Center
Nazareth Academy
Neshaminy High School
Newtown Athletic Club
No Longer Bound Prevention Services
NovaCare
PA Miracle Works
PATH
PATH CENTER
Peaceful Living Counseling and Professional services
Pegasus Therapeutic Riding Center
Penn Vet Working Dog Center
Penndel Mental Health
Pennsbury High School
Piece of Our Puzzle
Potential Inc
Precious Ones Childcare Center
SPIN
Shared Support South
Southwest NuStop
Spectrum Sports
Spike's Trophies
Spring Garden Academy
St. Lucy School for Children with Visual Impairment
St. Luke's Day School
Temple University Episcopal Hospital
The Enrichment Workshop for Children
The Healing Way
Trevose Day School
Warwick Family Services
We Care Behavioral
Wesley Enhanced Living
Woods Services
Young Achievers Learning Center
Youth Services Agency
Zikoski Vision
Spring Open House
Hear from Admissions, Financial Aid, Faculty, and more, and discover all that Holy Family University has to offer.
Register for this Event
Campus Center, 9801 Frankford Avenue, Philadelphia, PA 19114