Alumni Benefits
Alumni Benefits
Members of Holy Family's Alumni Association have access to a number of benefits and services, including insurance and museum discounts, access to the library and publication archives, career resources, HFU license plates, invitations to exclusive alumni events, and more. 
See complete details for all alumni benefits and services below or contact the Alumni Office with any questions or concerns.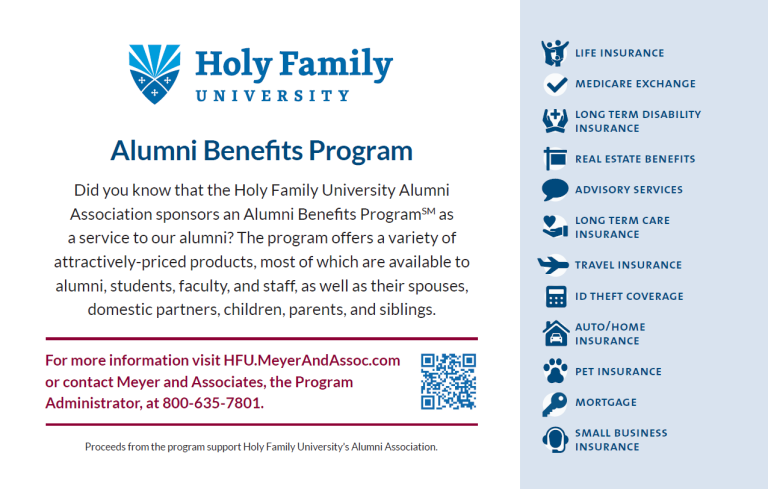 Crayola Experience Discount
Through a special affiliate partnership, Holy Family University alumni, family, and friends of all ages can enjoy discounted tickets to the Crayola Experience, located in Easton, Pennsylvania!
Crayola Experience includes dozens of colorful and creative activities for a full day of family fun. Bigger, brighter and bolder than ever, the colorful adventures of Crayola Experience and the Crayola Store help kids and adults alike explore art and technology, express their creativity, and experience color in a whole new way. 
To purchase discounted tickets directly, go to: https://tickets.crayolaexperience.com/affiliate/link?id=54DB3E08-5ABA-485C-8E1C-6F00EA46B426 or, visit: Tickets.CrayolaExperience.com/home and enter Store Name: HFU.
Franklin Institute Discount
As a member of Franklin Institute's Affiliate Ticket Program, friends and family of Holy Family University can save up to 20% on museum admission!     

Discover something new at The Franklin Institute, where kids and parents can explore the fun side of science. With twelve cutting-edge hands-on exhibitions, science has never been so fun - discover for yourself!
Just follow three easy steps to purchase your discounted tickets today:     

STEP 1: Visit the Affiliate Ticket Program website, www.fi.edu/affiliates     
STEP 2: Login and enter your organization code: FAMILYGRP     
STEP 3: Purchase and print your discounted tickets
Fun & Games
Holy Family University's Alumni Association is pleased to present a number of fun activities and games for Tigers of all ages, including a Word Search, Crossword Puzzle, Solitaire, and Coloring Pages. 
HFU License Plates

Holy Family University is proud to partner with PennDot and offers an official Holy Family University license plate. This plate is available to Pennsylvania residents only, and the application(s) must be filled out by the registered owner(s) of the vehicle(s). The cost for the license plate is $32 for PennDOT fees. As of September 2017, additional gifts to the Alumni Association are no longer required as part of this program. If you would still like to make a gift, you may do so with a separate check.
Holy Family University Magazine
Holy Family University Magazine is published twice a year and is mailed to all alumni free of charge. The current and past issues are available online:
NOTE: If you have not received your print copy, please make sure we have your correct address by completing the Alumni Update Form.
Familogue Yearbook
Individual volumes of Familogue, Holy Family University's yearbook, have been digitized for the benefit of alumni. Beginning with Holy Family's first graduating class in 1958, Familogue was published for every class through the Class of 2013.
To view, search, and download a yearbook:
Folio Archive
Serving as Holy Family University's literary magazine since 1959, Holy Family Folio is a lasting tradition that celebrates the creativity and artistic integrity of its contributors. Every year, Folio collects work submitted by students, faculty, and staff, compiling it all together to be printed in the magazine. The pages of the magazine include original works of prose, poetry, artwork and photography. Folio is one of Holy Family's longest running publications, and a tradition that the entire campus community treats with great respect.
Library Access
Alumni are welcome to visit the library at any time during open hours and will be allowed access to the physical and online library resources while on campus.  Alumni wishing to access the library should contact the Alumni office (alumni@holyfamily.edu or call 267-341-5017) to request an Alumni Library Pass. 
Please note that WIFI access will not be granted but networked computer workstations are available. Visitors must follow the same COVID-19 health and safety guidelines as students and wear a mask while inside any campus building.
Holy Family University Bookstore
Show your Tiger Pride with official Holy Family Alumni swag! Visit the University Bookstore online (for home delivery or in-person pick-up) or shop in-person. Store hours and bookstore contact information are posted on the website.
BONUS: Sign up for Bookstore emails and receive a coupon for 10% off of one school spirit apparel. Offer cannot be combined with other offers. Some exclusions apply.
Career Counseling and Resources
The Career Development Center staff understands the challenges of navigating the ever-changing job market. We are here to support you in that process, providing you the resources to feel empowered during your career exploration journey and job search. Recent graduates and alumni are highly encouraged to take advantage of the career services provided.
Services available to alumni include individualized career counseling, career exploration coaching, resume and cover letter review, mock interviewing, and other job-seeking/networking skills and techniques. See the full list and career events on the Alumni Career Services Page.
To set up an appointment, please contact Angela Cutchineal '06, Director of Career Development, at 267-341-3201 or via email at acutchineal@holyfamily.edu.
Additionally, we encourage all alumni to follow Holy Family University on LinkedIn.
Northeast Cycle
We are pleased to announce a new partnership with Northeast Cycle, an indoor cycling studio, which is located in Morrell Plaza (9910 Frankford Ave, Philadelphia PA 19114). All Holy Family alumni can enjoy their first class for FREE and a 10% discount by using the code "HFUALUMNI" when booking online at https://northeastcycle215.com/ or via the MindBody app.
Thanks to Northeast Cycle owner, Dana Dobrowolski '10, for this special deal!
Personal Training
Giant Fitness is now offering personal training provided by FitLife at a 20% discount to all Holy Family students, faculty, and alumni! Contact Frank at 267-275-4762 for a complimentary session to get your jump start on a healthy lifestyle.
Graduate Programs
Holy Family University offers a robust number of graduate programs and the application fee is waived for all alumni! Browse our master's and doctoral degrees and discover the program that's just right for you.
Transcript Requests
Need a copy of your official transcript or a replacement diploma? Alumni can conveniently order these online.
Holy Family Athletics
Go Tigers! Visit the official website of the Tigers - athletics.holyfamily.edu - for team schedules, scores, news, and more.
Prayer Requests
The Holy Family community believes in the power of prayer, and we invite you to share your intentions with us so we may pray with you.

HFU Abroad & Travel Opportunities
Each year, Holy Family University partners with EF Educational Tours to travel abroad for trips that explore culture, healthcare, education, art, biodiversity, history, and geography. Trips are open to the entire HFU community and packages include flights, lodging, ground transportation, many meals, guides, and tours.
Golden Alumni Lifelong Learning Program
This program enables members of our Golden Alumni Society to audit one credit bearing undergraduate course tuition-free (per semester) on a space-available basis. Contact the Alumni Office for complete details.