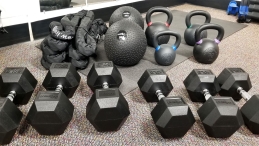 Fitness Center
Fitness Center
Live fit and live better.
We offer facilities not just for our official teams, but also for everyone on campus whether you're a student, faculty, or staff member.
Some facts about our Fitness Center:
You'll find gyms, showers, and locker rooms in the facility, located in the Campus Center building
Recreational opportunities include the use of the state-of-the-art fitness center and weight room
We offer an active intramural sports program for recreational purposes
Our comprehensive facility is dedicated to the total workout. On the upper floor, you'll find an array of cardio-training equipment, while the lower floor is reserved for weight training.
Albert & Carolyn Smith Cardio Room and Weight Room: Rules and Opening Hours
The cardio and weight rooms schedule is as follows:
OPEN DAILY: 6 a.m. to 12 a.m. during the academic year
The Fitness Center and Weight Room are closed on all University-recognized holidays.
Prior to your arrival, please note:
Prior to usage of the Fitness Center and Weight Room, an orientation must be completed with a member of the Fitness Center staff. After completing the orientation, you will be instructed to visit Information Technology and have your swipe activated. 
Orientations are available 9:30 a.m. - 12 p.m. Monday-Friday. Please check the Weight Room or Cardio Room if an Athletic Trainer is not in the office. 
Please contact John Gary with any questions or to schedule an orientation outside of the available times.
For reasons of safety, it is recommended that a companion be present during the use of this equipment.
CONTACT
Athletics | Fitness Center
Email: jgary@holyfamily.edu
Phone: 267-341-3680
Campus Center, G-15 Athletic Training Room