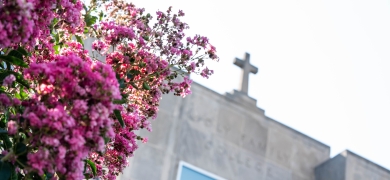 Accreditation
Holy Family University is an accredited private, coeducational, four-year residential university.
Holy Family University is accredited by the Middle States Commission on Higher Education (MSCHE) and undergoes periodic reviews to maintain its accreditation. The latest MSCHE reaffirmation self-study was conducted in 2020 and in spring 2021, the MSCHE Committee conducted a site visit. 
From the Middle States Standards for Accreditation and Requirements of Affiliation:
An institution of higher education is a community dedicated to students, to the pursuit and dissemination of knowledge, to the study and clarification of values, and to the advancement of the society it serves. The Middle States Commission on Higher Education (MSCHE), through accreditation, mandates that its member institutions meet rigorous and comprehensive standards, which are addressed in the context of the mission of each institution and within the culture of ethical practices and institutional integrity expected of accredited institutions. In meeting the quality standards of MSCHE accreditation, institutions earn accredited status, and this permits them to state with confidence: "Our students are well-served; society is well-served.*
Self-Study
Holy Family University has met all standards for accreditation and requirements of affiliation.
In addition, Holy Family University receives accreditation from the Commission on Collegiate Nursing Education**, and the Joint Review Committee of Education in Radiologic Technology (20 N. Wacker Drive, Suite 2850, Chicago, IL 60606-3182; Tel: 312-704-5300.
Several traditional undergraduate programs offered from the School of Business and Professional Studies are accredited by the Accreditation Council for Business Schools and Programs.  For more details regarding specific program accreditation, please see the School's accreditation page.  
Teacher certification programs at the graduate and undergraduate levels are approved by the Commonwealth of Pennsylvania, Department of Education.
Holy Family has also been approved by the Pennsylvania State Board of Nurse Examiners, the Veterans Administration, and New York State Regents, and is a member of the American Association for Colleges for Teacher Education (AACTE) and the American Association of Colleges of Nursing (AACN).
** The baccalaureate degree in nursing, master's degree in nursing, and Family Nurse Practitioner-Doctor of Nursing Practice  at Holy Family University are accredited by the Commission on Collegiate Nursing Education, 655 K Street, NW, Suite 750, Washington, DC 20001; Tel: 202-887-6791