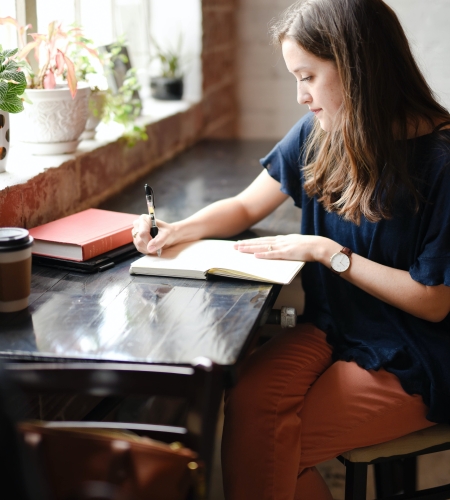 Creative Writing, MFA
Located in one of the most vibrant literary and creative communities on the east coast, Holy Family University's MFA in Creative writing is dedicated to faculty mentorship, immersive experiential learning, as well as the rigor of craft.
What Can I Do with this Degree?
MFA graduates become accomplished authors, poets, novelists, screenwriters, and playwrights with books from respected publishers and individual publications in nationally renowned journals. However, many employers value the communication skills and the creativity that an MFA fosters, and with a terminal degree in Creative writing you are prepared for an incredible variety of careers. 
The U.S. Bureau of Labor Statistics (BLS) projects growth for master's in writing careers through 2026, including an 8% increase for writers and authors, a 9% increase for public relations specialists, and an 11% increase for technical writers ("2018-19 MFA").       
Some of the diverse fields that see the MFA in Creative Writing as a unique or interesting qualification, if not a requirement, include:
Education, publishing, marketing/PR, journalism, advertising, television and radio, not-for-profits, and communications consulting.
Program Information
Degree Awarded

Program Location
Program Overview
The MFA at Holy Family University allows Students to hone their skills by working one on one with award-winning, internationally renowned faculty in a program that provides individualized instruction while recognizing the expanding role of creative writing beyond the traditional academy. 
Students may focus their course of study in fiction, nonfiction, and poetry, young adult fiction & nonfiction, literary genre writing (fantasy and sci-fi, mystery, etc.), or travel/food writing. 
The MFA at Holy Family University respects the growing demand for professionalization within the field of creative writing. Built into our flexible, two-year curriculum are opportunities for students to put their work in the hands of publishers, agents, and well-known literary figures while earning a terminal degree in the genre of their choice. Our focus on interdisciplinary practice supports student writing while providing opportunities for professionalization through writing-related experiences such as directed independent studies, internships, editorial practice, community engagement, social justice initiatives, teaching opportunities, and more. 
Our program is a diverse and inclusive community that provides students with unique opportunities to sharpen their craft against the backdrop of Philadelphia's teeming artistic landscape. Students will build relationships with their peers, program faculty, and community members that will prepare them for a long and fulfilling life in writing.
You Will Learn
To create a sustainable practice of writing in your daily life that encourages discipline, creativity, and growth.
To connect with an audience by developing a greater understanding of craft, genre conventions, and intention, as well as ways to challenge yourself and your audience through experimentation. 
To revise with purpose, so that your work may evolve in ways that align with your intended goals. 
To engage with the professional elements of the writing life, prepare for publishing opportunities, and create these opportunities.