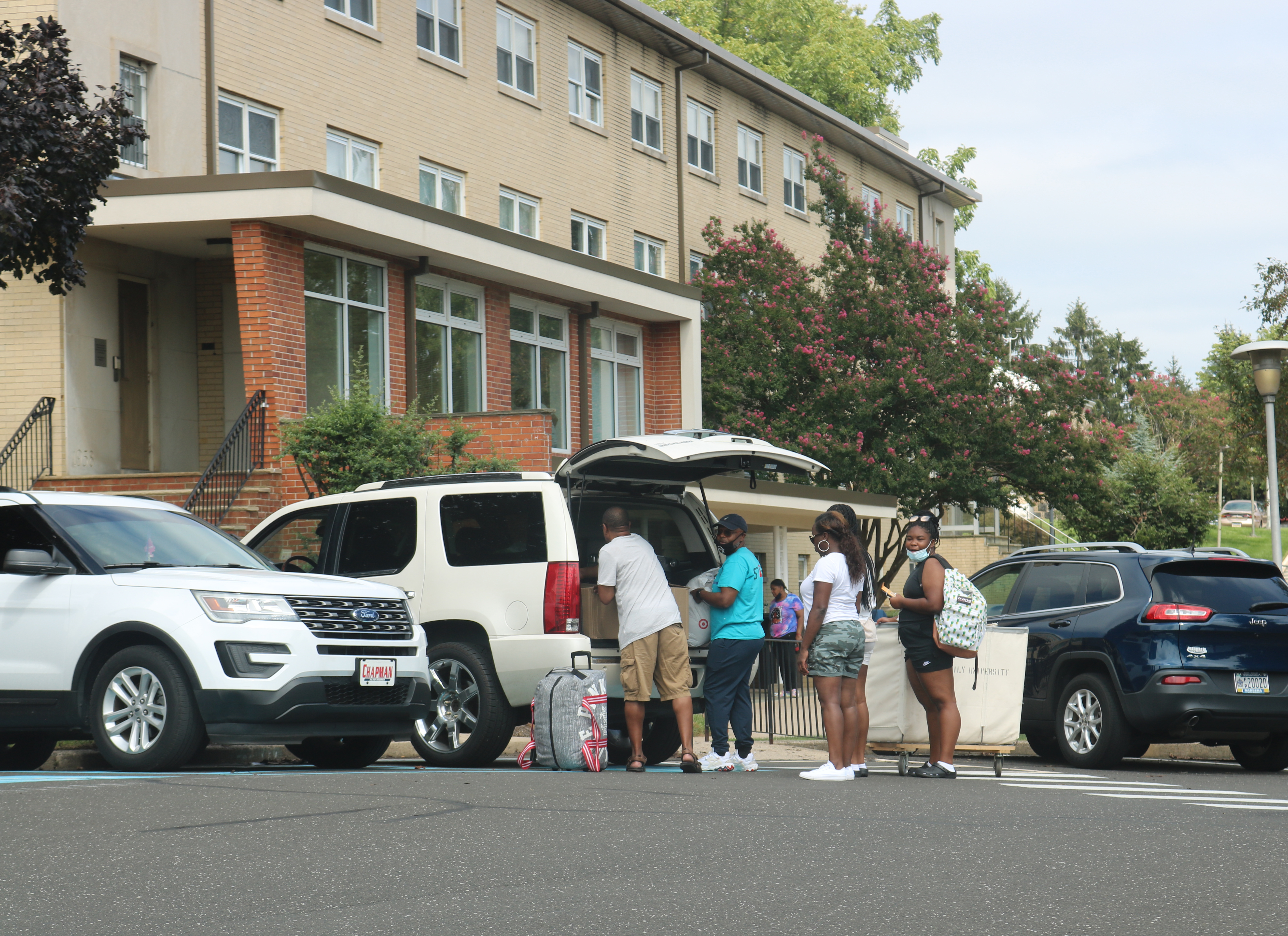 Move-In Day
You've applied for housing and made your deposit for the upcoming school year at Holy Family University. Now there's just one thing left to do -- move in!
You may have some questions about housing, roommates, and move-in, itself. Below is some general information to help you to prepare. 
Details specific to your move-in date will be forthcoming during the summer months, so be sure to check your Holy Family University email frequently.
Move-in details and roommate information will be distributed in late summer. In the meantime, visit the Residence Life FAQs for details on what to bring and more.
Check-In
Students must arrive at the Campus Center to complete paperwork, pick up keys, and gain swipecard access. You will then drive over to the designated residence hall to unload your belongings.
For new students moving into Stevenson Lane (SLR), student leaders will be on hand to assist you with unpacking your vehicle at your residence hall. Once unpacked, you will enjoy fun activities and events throughout the remainder of the day.
Please bring additional moving equipment you feel you will need to assist with your move-in. Students should not go to their building prior to officially checking in. No items may be moved into spaces prior to checking in.
Missed Your Move-In Time?
Move-in day is a busy time on campus as we work to accommodate all students who are moving into our residence halls. If you are unable to attend at your scheduled move-in time, you will need to return to the Campus Center, Room 214 during regular business hours (Monday-Friday, 9 a.m. to 5 p.m.) for check-in and move-in. 
Mandatories for Move-In
Students with holds or outstanding balances will not be permitted to move into the residence halls. Staff will email you with your status prior to move-in day, so you will be aware. If you have not received confirmation, please contact the Office of Student Accounts to confirm that you are cleared for move-in PRIOR to your arrival
All students must be registered full-time and have Health Services clearance, in order to move in. Again, your status will be emailed to you so you will know whether or not you have been cleared. Athletes should confirm health clearance with Athletics as well as Health Services.
We will have representatives from Information Technology available for ID issues and computer help on Move-In day. If you have questions ahead of time, contact Information Technology: 267-341-3402.
We also encourage you to sign up for an Orientation Day. This will help you familiarize yourself with the campus and available resources.
Barnes and Noble will have a table at Orientation with information on purchasing linens and other items for your room. Contact the Bookstore at 267-341-3657 for more information on this program.
Please be sure you are using your Holy Family University email, as it is the official means of communication from the University with its students. Your Holy Family University email account information will be sent to you from the Registrar's Office. All follow-up correspondence will be sent to your Holy Family University email address.
Helpful Contacts
For housing questions, please contact Residence Life at 267-341-3494 or email reslife@holyfamily.edu
We look forward to welcoming you to our campus!