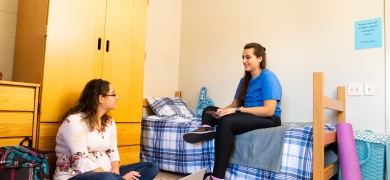 Apply for Housing
Housing for Fall 2023
Housing at Holy Family University is currently at capacity for Fall 2023. Any questions, please email the Office of Residence Life, reslife@holyfamily.edu.
Housing for Spring 2024
If you have questions regarding availability or application for Spring 2024 Housing, please connect with our team at reslife@holyfamily.edu.
Housing Application for Fall 2024- Spring 2025
Information will be made available during the Fall 2023 semester.
Ready to Apply? Be Sure to Have the Following Information Handy: 
Your health insurance card – health insurance is required for all residents
Your roommates – please be prepared to write down who you want to live with – it's okay if you don't have any or don't have enough to complete a room – we will place students in spaces. Only mutual requests, made by the deadline, will be honored.
Your desired meal plan – please check out the dining services website to figure out which you will choose
Think about what type of room you would prefer to have and which building suits your needs the most.
Decide who will be your emergency contact and/or your missing person contact and have their information ready
Make sure you know your student ID number. It is required. You should have received it in the mail. If unsure, please contact the Registrar's Office.
You will need to select New or Returning Application. First-year and TR students should select New. Other students should select Returning (even if you've never lived on campus before).
Returning (or current) students pay their $100 deposit through Self-Service or the Office of Student Accounts. New students deposit $300 through Admissions.