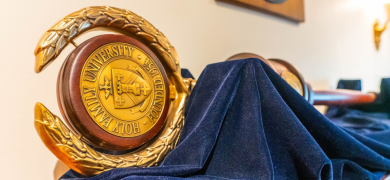 Office of the President
Message from the President

Welcome to Holy Family University.
As president, it is my great honor to oversee an institution whose mission is designed to transform students' lives. My goal is to uphold the impressive foundation that has been set forth and to advance educational excellence.
Our unique motto, teneor votis – I am bound by my responsibilities, is a pledge that remains more relevant than ever at a time when our shared humanity and responsibility to each other is ever more heightened.
Holy Family proudly boasts one of the most affordable private Catholic educational experiences in Pennsylvania, and has been a treasure of Northeast Philadelphia for decades.
While the University has long been known for its stellar programs in nursing and education, our educational opportunities extend to areas of study designed to prepare students for the most in-demand careers in today's job market.
From study abroad opportunities to places like Paris, Rome, and London, to service projects and trips such as Habitat for Humanity, the University offers something for everyone. Our student-athletes compete at the Division II level and practice and play on our new turf field.
Holy Family University is a place where students explore and learn both in the classroom and beyond. Our inclusive environment encourages students at all levels—from undergraduate and transfer students, to graduate students and adult learners—to pursue a holistic path that centers on finding meaning and pursuing a future based on the dignity of the human person. The University's Mission is to produce graduates who are steeped in the tradition of service so that they will be armed to enter today's workforce not only do well but also to do good.
A Holy Family University education is a family experience. We care for our community as we would our own families. This approach is the hallmark of Holy Family and a quality that is truly unique in higher education.
I encourage prospective students to explore our programs and to consider this unique opportunity to discover your gifts in an environment that is dedicated to your success.
I look forward to serving my tenure alongside our outstanding faculty and staff.
Onward & upward together in faith & family,
Anne Prisco, Ph.D.
President
Contact the President
Anne Prisco, Ph.D.
Anne Prisco, Ph.D. was appointed as the sixth president of Holy Family University in July 2021. Dr. Prisco has dedicated herself to advancing higher education and student success.