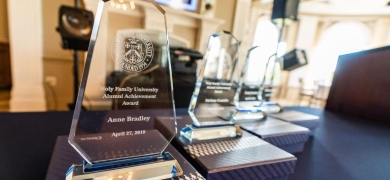 Alumni Awards and Scholarships
Alumni Awards
The Holy Family University Alumni Association is pleased to recognize our distinguished and committed alumni and students.
Alumni Achievement Award
This award is given to a graduate who displays great accomplishment(s) in one or more of the following areas: professional achievement, community volunteer service, and humanitarian efforts. Through these accomplishments, these alumni bring recognition to themselves and to Holy Family University.  
 
Alumni Association Scholarship
Established in 1978 by the Holy Family University Alumni Association, this endowed scholarship is awarded to the children of Holy Family graduates. The recipients must be at least sophomore students, have a satisfactory academic record, and give evidence of financial need. It is a one-time award that is not renewable. 
Honorary Degree Recipients
Holy Family University proudly bestows the degree of Doctor of Humane Letters, honoris causa, to Honorary Degree recipients each year at Commencement. This distinction is the highest honor that the University grants and is presented to individuals whose contributions to the public good warrant exceptional recognition.
Other Awards