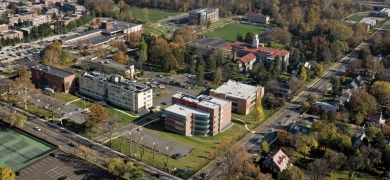 University History

Past and Present of Holy Family University
Holy Family University is a fully accredited Catholic, private, co-educational university. The University is under the patronage of the Holy Family of Nazareth, the model for all families. Through various activities and the curriculum, concerted efforts are made to deepen the students' awareness of the Holy Family and the modern family as an important social unit.
Chartered in 1954, Holy Family boasts a vital history among colleges in the Philadelphia area. The founding of Holy Family College in 1954 by the Sisters of the Holy Family of Nazareth marked the culmination of an evolutionary cycle begun in 1934 with the opening of the Holy Family Teacher Training School. During the early years, the college functioned as an affiliate of the Catholic University of America. Full accreditation by the Middle States Association of Universities and Schools was extended to Holy Family seven years after its founding in 1961, a status that was renewed in 1971, 1981, 1991, 2001, 2011, and 2021. The Pennsylvania Department of Education approved the college for university status in 2002.
The graduate programs in education were approved by the Pennsylvania Department of Education in March 1990, followed by the Nursing and Counseling Psychology programs in 1997, and the Accelerated Business Administration program in 2003. The graduate program in Criminal Justice was approved in 2007. The graduate program in TESOL and Literacy was approved in 2008. The doctoral program in Educational Leadership and Professional Studies was approved in 2010. Today, the University provides liberal arts and professional programs for more than 2,100 undergraduate students. The graduate programs in business administration (accelerated), criminal justice, education, counseling psychology, nursing, human resources management, and information systems management serve more than 1,100 professional and pre-professional men and women.
Holy Family has been a dynamic institution responding today in order to provide for tomorrow's needs. Despite its growth in numbers of students, its geographic expansion from Philadelphia into surrounding counties, its provision of residence opportunities, and its adoption of alternative pedagogical delivery strategies, the University's purpose remains essentially unchanged—to offer a high-quality, affordable, personalized, and values-centered education in the firm tradition of Catholic higher education. In living Holy Family's motto, teneor votis, the University community recognizes its responsibility to those whom it serves and realizes that its Mission is best extended by its students who are likewise deeply conscious of their ongoing responsibilities to themselves, others, their country, and their God in ways that transcend time and place.