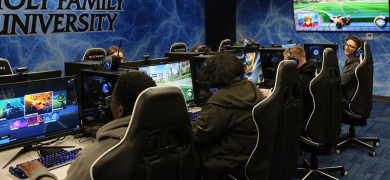 Esports
State-of-the-art Gaming
Holy Family University boasts a state-of-the-art gaming space for students. In addition to our Holy Family Tigers Varsity Athletics team, all Holy Family students can utilize the space during free hours.
Hours
10 AM - Midnight, Monday-Sunday. The room is closed during Esports varsity team practices and matches.
Esports Room Access
Current Holy Family students wishing to use the room need can fill out an Access Request Form.
Once you have completed this form, your access will be confirmed with an email from esports@holyfamily.edu.
Current Games
Current games offered on each of the Center's 20 PCs are League of Legends, Valorant, and Rocket League. Additional games are allowed but must be approved in advance by emailing csibilia@holyfamily.edu.