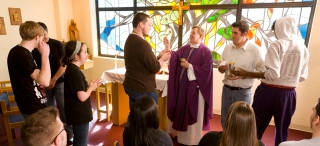 Campus Ministry
Campus Ministry
Who We Are
Campus Ministry is not a social club or organization, but rather a leadership opportunity for Holy Family students to serve as leaders in Church and Society. Campus Ministry encompasses the entire campus community and involves a myriad of community and individual services and initiatives, ranging from daily liturgy, the sacrament of reconciliation, appropriate devotional and service opportunities, and faith-based confidential counseling.
What We Do
Our highest outcome is a combination of spiritual formation and leadership development for members of the Campus Ministry community. Holy Family's Campus Ministry helps students spiritually and experientially through leading the Campus Ministry activities and initiatives with proper preparatory mentoring from Fr. James MacNew, faculty, administrators, professional staff, and alumni. Campus Ministry initiatives and weekly meetings are open to all members of the campus community. In addition to daily mass and the sacrament of reconciliation, Campus Ministry goes on a retreat to Bear Mountain, complete with a mass on the summit. The group also attends the March for Life event in Washington D.C. in addition to several other on-and-off campus service opportunities, like the "Jesus All Nighter," which is eagerly anticipated by members of the campus community.
Every Campus Ministry initiative is intended and directed to the glory of God, love of our neighbor, and the care of our common home in fulfillment of the six dimensions of Campus Ministry, as articulated in the Catholic Bishops' Pastoral Letter "Empowered by the Spirit."
What You Can Expect
The Campus Ministry community runs as a collaborative community, where members are encouraged to offer suggestions about possible initiatives for the Campus Ministry team meetings and activities. Members of the Campus Ministry community are members of various faith traditions, and this diversity ensures suggested input from Catholic and non-Catholic media sources. In truth, several of our Campus Ministry initiatives and activities are paramount to our Catholic identity and to Holy Family's Mission and Core Values. On campus, our weekly meetings foster and build community among students and our on campus activities and initiatives generate lively interest and dynamic participation.
Campus Ministry
Fr. Jim MacNew, OSFS
Director of Campus Ministry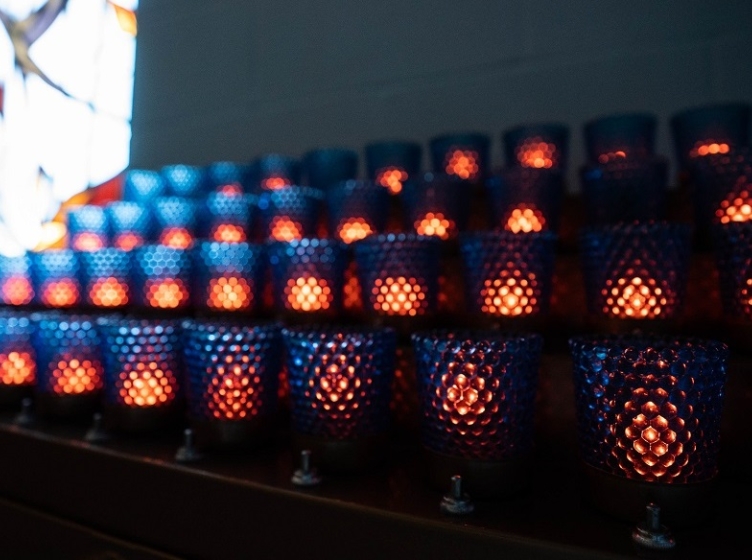 Weekday Mass
Join Father MacNew for weekday Mass on Tuesdays, Wednesdays and Thursdays at 1 p.m. during the fall and spring semesters.