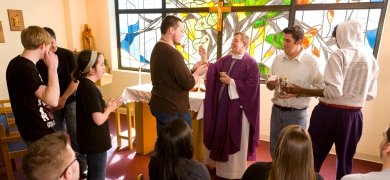 Campus Ministry
All Are Welcome
Weekday Mass is held Monday through Friday at 1:00 PM in the Campus Center Chapel.
Campus Ministry offers a sacred space for relationship with God, with each other and ourselves. As our lives unfold, we may find ourselves asking, "Who am I?" What's my purpose? Am I growing and changing for the better? Where is my life leading me?"
In Campus Ministry, we explore these questions together as a community and as individuals. We reflect on how God guides us to become who we are meant to be. It's an exciting journey as we pay attention to the gentle nudges which encourage us to "try this or try that." In this stretching, we learn to open ourselves to receive the blessing of courage to persevere through times of transition knowing and trusting that we are loved and are not alone.
Embracing our Catholic identity and our mission, we create a welcoming and inclusive space for genuine encounter where persons of all faith traditions—and those still searching—are invited to share their journey. Campus Ministry empowers all to create family and inclusivity by forming relationships that encourage all to be their best and do their best. We serve our students, faculty, staff and neighborhood by offering opportunities for spiritual growth and connection through community prayer, retreats, volunteer service and social outings.
Campus Ministry seeks to complement and augment the larger mission of Holy Family University, "to extend the Kingdom of God's love among ourselves and others" by encouraging all members of the Holy Family community to uphold the Nazareth values of faithful listening, loving relationships and recognizing God in the everyday.
Jill Snyder
Director of Campus Ministry
jsnyder3@holyfamily.edu
267-341-3261
"This is important: to get to know people, listen, expand the circle of ideas. The world is crisscrossed by roads that come closer together and move apart, but the important thing is that they lead towards the Good." --Pope Francis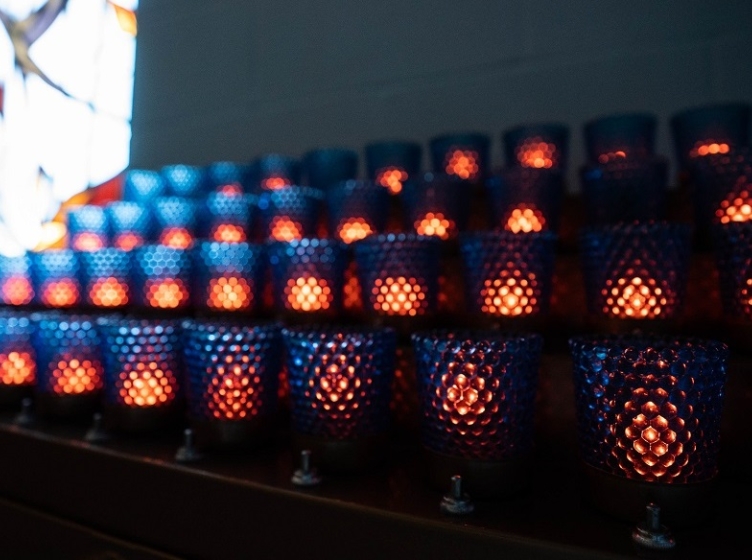 Weekday Mass
Our weekday Mass will resume in September.